Ref. 1348
G.-F. Quignon
Cabinet-maker
(1843-late 19th century)
(attributed to)
Neo-Renaissance Cabinet
France
Circa 1889
Presented at the Universal Exhibition of Paris in 1889  
Height : 194 cm (76,5 in.) ; Width : 173 cm (68 in.) ; Depth : 56 cm (22 in.)
Important sculpted and engraved natural wood, patinated bronze and Griotte de Campan red marble inlaid Neo-Renaissance style cabinet.
The upper part is composed of a frieze of bronze medallions separated by triglyphs and supported by ribbed columns with corinthian capitals. There are eight of these columns paired at the front and two simple columns at the rear. The facade presents an alternation of bronzes in niches and cartouches, of marble slates in cartouches sometimes flanked by palmettes, and of engraved motives of laurel and foliage scrolls. The upper part opens with three leaves and three mobile compartments. The belt carved with acanthus leaves opens with two drawers. This cabinet is supported by four richly sculpted tapered feet ending with claws. Four fluted pilasters are inscribed in the moulded back as counterparts. The whole ensemble stands on a moulded plinth and eight rounded feet.
The bronze ornamentation
The iconography of the bronze low-reliefs adorning this cabinet brings together the mythology, the Roman world and the Renaissance period. The facade presents two bronze pannels with camp scenes depicting the Emperor talking to his soldiers. A third medallion scene depicts a soldier next to his wounded companion. This medallion is framed by two bronzes featuring Poseidon.
A frieze including 24 bronze medals girds the top of the cabinet. Some of them depict notable figures in Renaissance history in the manner of Guillaume Dupré (c.176-1643), who trained with Prieur and was close to King Henri IV, then sculptor of King Louis XIII. Some others picture Roman emperors after sestertium models or scences from the antique life.
Period texts
Around 1889, numerous cabinets or commodes included this type of medals or medallions (it can be noted that during the years 1880, F.Levillain (1837-1905) developped a new technique of production for low-reliefs that allowed creating medallions through a system of mechanical sculpture). Several of this type of cabinets were produced by G.F.Quignon, including a 'joli cabinet, d'une construction parfaite, élégant de forme, enrichi de colonnettes, de bas-reliefs de bronze, et de frises en marqueterie' (a nice cabinet, perfectly constructed, of an elegant shape, enriched with small columns, bronze low-reliefs, and marquetry friezes; in Exposition Universelle, 1889, les Beaux-Arts et les Arts Décoratifs, published under the direction of L.Gonse and A. de Lostalot, Paris, Journal Le Temps, p.351). In the Rapports du Jury International, Exposition Universelle de 1889 à Paris, Alfred Picard noted that Quignon became a 'maître' : 'who has not admired his very fine Henri II piece of furniture, in natural pearwood ?'. V. Champier reproduced a pearwood cabinet identical to ours in Les Industries d'Art à l'exposition universelle de 1889.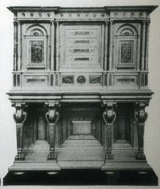 Neo Renaissance Cabinet exhibited at the Universal Exhibition of Paris in 1889 illustrated in J. Meyer, Great Exhibitions, London, New York, Paris, Philadelphia, 1851-1900, Antique Collector's Club, 2006, p. 281.
Neo-Renaissance Style
This piece of furniture is a very fine example of the Neo-Renaissance style, which appeared in the years 1830 with Claude-Aimé Chenavard (ornemanist, 1798-1838), and was notably developed by the decorator Michel Liénard (1810-1870). This style followed the Neo-Gothic style and the cult of the Middle-Ages and succeeded on the long run. Inspiration sources were numerous in France and the iconographic richness of the mannerism flattered the taste of the Second Empire. Cabinet-markers notably took inspiration from the Henri II period and favored the use of richly sculpted solid wood.
Biography
Gustave-Frédéric Quignon, born in 1843, worked with his father Napoléon Quignon, boulevard Richard-Lenoir. He took the lead in 1874 and expanded the production of the firm with other seats and pieces of furniture, but also with sculpture. Like his father before him, he produced richly carved and gilded Louis XV and Louis XVI style furniture, but also some Neo-Renaissance furniture. He became a supplier of the Mobilier National. He exhibited at the Universal Exhibition in 1878 and won a gold medal. He was a member of the jury at the Universal Exhibition in 1889. The same year, he relocated the firm rue de Saint-Sabin, where he worked until the end of the century. He participated to the French Exhibition of Moscow in 1891, next to H.Dasson and P.Sormani, and to the rapports sur l'Exposition Internationale de Chicago in 1893. He won the Grand Prix for his stand at the Universal Exhibition of 1900.
Museology
A set of furniture (a great sideboard, a display case, a table and eighteen chairs) in natural wood from the Quignon firm, circa 1870, is housed at the Willet-Holthuysen Museum, Amsterdam.
Bibliography
V. Champier, Les Industries d'Art à l'exposition universelle de 1889, Paris, 1889.
D. Ledoux-Lebard, Les Ebénistes du XIXe siècle, Les Editions de l'Amateur, 1984, p.538.
J. Meyer, Great Exhibitions, London, New York, Paris, Philadelphia, 1851-1900, Antique Collector's Club, 2006 (an identical pearwood cabinet illustrated p. 281).
Tobogan Newsletter
If you want to be up-to-date with our new acquirings you can sign up to our newsletter.