Ref. 1755 & 1742
F. Linke
Cabinet-maker & Bronze-caster
(1855-1946)
Rare Cabinet and its companion Vitrine
France
Circa 1890
Height : 175 cm (68,9 in.) ; Width : 75,5 cm (29,7 in.) ; Depth : 44,5 cm ( 17,5 in.)
Exceptional Louis XVI style cabinet and its companion vitrine made in mahogany veneer and beautifully mounted with chiseled and gilded bronze. They are surmounted by a rectangular top with an egg-and-dart molded edge, above a frieze centered by a laurel-festooned Bacchic mask and scrolling acanthus.
The vitrine and the cabinet open by one door ; the paneled door of the cabinet centered by a ribbon-suspended lyre and foliate pendant.
Both have the angles adorned with tapering female caryatids, above a guilloche. They rest on tapering fluted quiver-form legs joined by a pierced stretcher, surmounted by a flowery urn, and ending on toupie feet.
related work / provenance
– Furniture commissioned by Mr. and Mrs. Meyer, Art collectors, and delivered in 1909 in their mansion in Grosvenor Square, London
– Sold to the King of Egypt in 1927 and placed in the Palace of Ras al-Tin in Alexandria
View of a room of Elias Meyer's Mansion, in 16 Grosvenor Square, London, taken in 1909 and reproduced and commented in François Linke (1855-1946), The Belle Epoque of French Furnitures, Ch. Payne, p.247) showing the cabinet and the showcase in situ.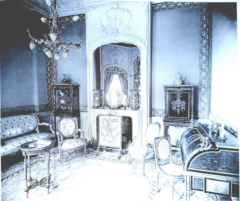 Elias Meyer, a private collector, became the tenant of 16 Grosvenor square in 1907 and furnished the place with two commandes from F. Linke (numbers 1237 and 1272) placed in 1909. These pictures show the Louis XVI style cabinet and vitrine listed n°684 in Linke's photographic archives, the cabinet originally made by Beurdeley, style used for more intimate rooms.
After Meyer's death in 1925, Linke re-purchased most of the furniture.
View of the cabinet in situ in the Queen's bedroom in the Palace Ras al-Tin, in Alexandria, after being bought by King of Egypt Fouad on March 1927.
biography
François Linke, born in 1855 in Bohemia (Czechoslovakia), worked as a cabinet-maker in Paris from about 1882 until his death in 1946. In 1900, at the apex of his career, he opened a new shop at the famous Parisian place Vendôme. He specialized in Louis XV and Louis XVI style furniture: all pieces were beautifully mounted with gilt-bronze ornaments, and he received numerous commissions. Later Linke decided to collaborate with the well-known sculptor Léon Messagé and integrated new lines and shapes announcing the "Art Nouveau" style. His great success is definitely the 1900 Universal Exhibition where he was awarded the gold medal for his extraordinary kingwood desk, designed by Messagé. At this occasion, the "Revue artistique et industrielle" commented that "Linke's stand is the biggest show in the history of art furniture".
bibliography
Christopher Payne, François Linke, The Belle Epoque of French Furniture 1855-1946, Ed. Antique Collector's Club, 2003, p.247, p.278
Tobogan Newsletter
If you want to be up-to-date with our new acquirings you can sign up to our newsletter.