ref. 692/0
Susse Frères
Bronze-casters & Art objects Editors
(attributed to)
Exceptional marquetry cabinet
France
Circa 1880
Height : 112 cm (44 in.) ; Length : 101 cm (39,7 in.) ; Depth : 46 cm (18 in.)
Blackened wood side-cabinet, opening with a central cupboard door underlined with gilt-bronze rods, flanked by two small onyx columns encircled with bronze. With a very fine and elaborate « Boulle » ornamentation inlaid with wood, copper, brass and lapis lazuli and ornamented with arabesque, acanthus and palmet motifs. An ormolu molded base resting on six top feet. Topped with Brèche marble.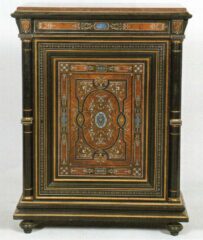 Very close to a « Meuble à hauteur d'appui » of similar design and ornamentation, however presenting single wooden posts on each side. Signed Susse Frères on the lock (Private collection, Paris).
Biography
Awarded medals several times at the famous Paris « Expositions des Produits de l'Industrie », Susse Frères (Brothers), Victor (1806-1860) and Amédée (1808- 1880), were known since 1841 as makers of « Art bronze pieces for clocks, candelabras, statuettes, etc ». Installed Place de la Bourse in Paris, they also presented at the second storage of their luxurious shop « fine furniture, ormolu mounted porcelain pieces and art objects ». As a worldwide renown foundry, the Susse company began to cast pieces as soon as the first half of the 19th Century The most well-known French sculptors gave their sculpted models to Susse in order to cast them, such Pradier who signed in 1841 the oldest known publishing contract for bronzes between a publisher and an artist. After the death of the two brothers, Albert Susse took over the business from 1880 until 1922.
Tobogan Newsletter
If you want to be up-to-date with our new acquirings you can sign up to our newsletter.