Ref. 1530/1
Large armchairs "à chassis"
France
Circa 1880
Height. : 106 cm (42 in.) ; Length. : 83 cm (32,5 in.) ; Depth. : 65 cm (25,5 in.)
A very fine set of four Regency style « à la Reine » armchairs made in carved and gilded wood, unpholstered with green velvet. Each armchair has a a carved shaped giltwood frame with flower and console legs.
related work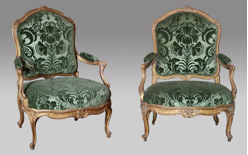 A set of four armchairs stamped by M.Gourdin, kept in the Louvre museum (inv. OA 10499), were used as models for our armchairs.
biography
Michel Gourdin (1724-1797), who was made maître menuisier in 1752, comes from a prestigious dynasty of menuisiers under the reigns of Louis XV and Louis XVI : his father, Jean (1690-1764), his brother Jean-Baptiste (1723-1781) and himself. The two brothers decided not to continue their father's workshop but each one founded his own workshop, depeening their skills and specialities. Among his famous customers, Marie-Josèphe of Saxe, the Marshal of Contades, the duchess of Charost and the marquis of Poyanne bought furniture from him.
bibliography
Bill G.B. Pallot, Le Mobilier du Musée du Louvre, Faton, 1995, Volume 2, p.93
Tobogan Newsletter
If you want to be up-to-date with our new acquirings you can sign up to our newsletter.