Ref. 1224/12
Pair of Winged Sphinxes armchairs
France
Circa 1870
Height : 99 cm (39 in.) ; Width : 66 cm (26 in.) ; Depth : 63 cm (24,8 in.)
A very fine pair of Directoire style carved and tinted walnut armchairs, with carved sphinges for the armrest supports. The circumference of the seatback and the seat belt are delicately carved with beads, rosettes and links. Reposing on tapered and fluted legs topped with carved rings.
Related work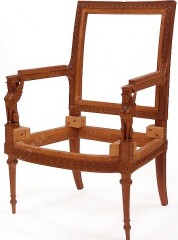 Those armchairs are close in design to the chair model made in 1790 by the cabinet-maker Georges Jacob (1739-1814), and now displayed at the Paris Decorative Arts Museum (Inv. Mob Nat Gme 1552).
Biography
After having been received Master in 1765, Georges Jacob (1739-1814) worked from 1773 to the French Revolution for the Crown Furniture Repository. Its clientele was the most brilliant with Louis XVI and Queen Marie-Antoinette, the royal family, especially the Count of Provence, future Louis XVIII, the Count of Artois, future Charles X, the Prince of Condé, the Duke of Penthièvre as well as foreign courts. In 1785 he created the first mahogany chairs, called « British chairs », for the Count of Provence. He launched the Etruscan style in 1788 by delivering « Etruscan » carved mahogany furniture for the dairy of the castle of Rambouillet. He also participated in the furnishings of the Petit Trianon at Versailles. Georges Jacob spent the revolutionary period without being harassed thanks to the famous painter David. He retired in 1796, leaving his workshop to his sons Georges Jr. and François-Honoré, who created the company Jacob Brothers at Meslée Street, making Directoire and Consulate style furniture and seating. Because of their success, George interrupted retirement to help his sons to supply the imperial residences of Napoleon I. François-Honoré added the name of Desmalter, after the death of his father, in memory of the family estate in Burgundy.
Tobogan Newsletter
If you want to be up-to-date with our new acquirings you can sign up to our newsletter.