ref. 1735/6
Faun and Bacchus

France
Circa 1880
Gilded and patinated bronze, Griotte marble
Height : 51 cm (20 in.) ; Base : 16 x 16 cm (6,3 x 6,3 in.)
Pair of candelabras after a model by Clodion, representing a young Faun and a young Bacchus in patinated bronze, each holding three light-arms in chiseled and gilded bronze with vine decoration. They rest on a square base with curved edges in Griotte marble, topped by a truncated and fluted column in gilded bronze, surrounded by a torus.
related work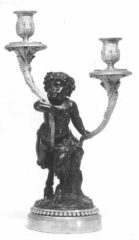 Candelabra child Satyr (in pair with a little girl), model by Clodion
Circa 1775, Gilded and patinated bronze
Provenance : Palais de Compiègne in the 19th century
Kept in the Louvre museum (OA 5207)
The authorship of the model is established by the sales catalogue of the Cabinet of Mr. Aubert, on March 2nd, 1786 :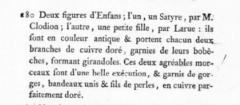 biography
Claude Michel, known as Clodion, is a French sculptor born in 1738, from the Adam dynasty. He joins in 1755 the workshop of his uncle Lambert Sigisbert Adam then becomes the student of Jean-Baptiste Pigalle. He wins in 1759 the sculpture grand prize and leaves to Rome in 1762 until 1771. In 1773, he is accepted by the Academy and receives his first order from the King in 1779 for a statue of Montesquieu. He is known for his mythological groups of dancers, nymphs or bathers in terracotta, and many of his artworks are exposed in museums such as the Louvre, the National Gallery of Art de Washington, or the museum of Fine Arts of Nancy.
Tobogan Newsletter
If you want to be up-to-date with our new acquirings you can sign up to our newsletter.