ref. 670/0
Pair of candelabras with feminine masks
France
Circa 1880
Silvered bronze
Height. : 57 cm (22,4 in.) ; Diam. : 37 cm (14,5 in.)
Pair of Louis XIV style five lights candelabras. Chiseled and silvered bronze. Ornamented with palmettes, medallions and feminine masks. Central stem with guilloche motifs, resting on an octagonal base.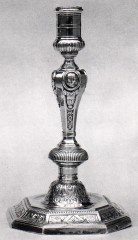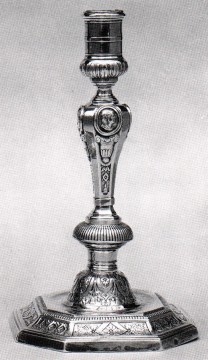 To be linked : a silver candlestick made around 1720 by the French silversmith Jacques Besnier, after a model designed by Jean Bérain (1640-1711). Now preserved at the Metropolitan Museum of Art, New York (Reproduced and commented in « L'art du luminaire », J.Bourne, V.Brett, Flammarion, 1992, p°50).
Wall sconces, chandeliers, candlesticks and candelabras considerably develop during the 17th century. Their refinement reflects the social situation of their owner. The sophisticated ornamentation, solemn and rigorous, is generally inspired by the designs of Jean Bérain, Daniel Marot, C. de Moelder or Le Pautre, whose books of studies circulate throughout Europe, inspiring other craftsmen. At the end of 17th century and at the beginning of 18th century, ornemanistes bring a new life to decorative arts, liberating these from the Le Brun classicism and opening the way to Regence style, lighter and more intimate.
Tobogan Newsletter
If you want to be up-to-date with our new acquirings you can sign up to our newsletter.