Ref. 1012/2
Louis-Auguste Marquis
Bronze-caster (1811-1885)
(attributed to)
Exceptional chandelier
Provenance : Casino – Campione d'Italia
France
Circa 1860
Gilded bronze, Crystal 
Height  : 210 cm (82,6 in.) ; Diameter : 195 cm (76,7 in.) 
This very important 96-lights chandelier made entirely in chiseled and gilded bronze in the Renaissance style, is composed at the lower part of six large sets of ten light-arms, adorned with Bacchus masks, scalloped acanthuses, pearls and "cuir découpé" motifs ("cut leather"), and at the upper part of six sets of six light-arms.
The light-arms set is designed around an architectured central shaft, made of foliate balusters, surrounded by three female tritons, each bearing a basket of exotic fruits. The whole finishing at the top with scrolls alternating with garlands of fruits. The whole is richly adorned with numerous cut and faceted crystal pendants.
related work
Two identical chandeliers have been made by Louis-Auguste Marquis for the Galerie de la Paix du 37 quai d'Orsay, Hôtel du Ministre des Affaires Étrangères.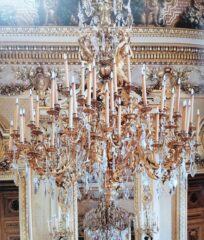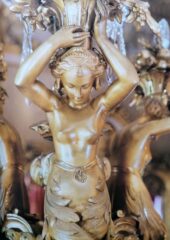 (Reproduced in Le Quai d'Orsay, Ministère des Affaires Étrangères, Jean-Michel Leniaud, Jean Fouace et Gilles Stassart, Éditions internationales du Patrimoine, 2014, P. 198-201)
biography
Louis-Auguste Marquis (1811-1885) teamed up in 1839 with another bronze-caster named Gilbert Honoré Chaumont (1790-1868), already specialized in lightings. They were awarded at the Exhibition of Industrial Products a bronze medal with their Renaissance style candelabra, a clock and a large chandelier with branches supported by children and chimeras. At the 1844 Exhibition, they were awarded another bronze medal. It was at this time that Chaumont retired from business and Marquis entered the "Réunion des Fabricants de bronzes" in Paris. He then moved his store from 23 to 25 of the rue Chapon. Marquis showed then alone and successfully his bronze casts and chandeliers at the Exhibition of Industrial Products of 1849. Under the Second Empire, the Marquis company set at 66 Boulevard de Strasbourg. As a leading provider of royal and imperial palaces since the creation of the house by Chaumont, Marquis continued to receive the title "Manufacturer of furniture of the Crown". He thus supplied various palaces with chandeliers, light-arms and andirons, made in the Gothic, Renaissance and Louis XIV styles.
Tobogan Newsletter
If you want to be up-to-date with our new acquirings you can sign up to our newsletter.