Ref. 1806/1
E. Cornu
Sculptor-Ornemanist
(1827-1875)
G. Viot et Cie
Compagnie des Marbres Onyx d'Algérie
(active from the 2nde part of the 19th Century)
(attributed to)
Orientalist Chandelier
France
Circa 1870
Enamel, Gilded bronze, Algerian onyx
Height : 125 cm (49,2 in.) ; Diameter : 110 cm (43,3 in.)
Rare orientalist chandelier with 24 lights, in Algerian onyx, chiseled and gilded bronze and cloisonné enamel. It consists of a shaft formed by a baluster-shaped vase in onyx decorated with a rotating frieze in polychrome cloisonné enamel decorated with vegetal foliage topped with gilded bronze acanthus leaves, enameled cabochons, all topped with an onyx sphere. It is lit by four winding branches ending in an enameled cabochon distributing four bouquets of four lights surmounted by a flame, alternating with four two-light branches. The whole is richly adorned with many Baccarat cut crystal pendants, garlands and stars. It ends with a flattened sphere in onyx ending in a gilded bronze.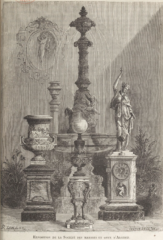 View of the stand of the Société des Marbres et Onyx d'Algérie, Paris Universal Exhibition, 1878
(reproduced in Les Merveilles de l'Exposition de 1878, p. 561)
Biography
The sculptor Eugène Cornu (1827-1899), installed in Paris at N.29 rue Popincourt, after having worked as a designer and then director for the renowned company Tahan (1813-1892), worked closely from 1858 with the « Compagnie des Marbres Onyx d'Algérie », led by Gustave Viot (1828 – 1897) and created by Alphonse Pallu (1808-1880) on June 14th 1858. This company refers to the exploitation of onyx, known since antiquity but rediscovered in 1849 in Oran Province, Algeria, by Del Monte, a marble worker. It opened in 1863 a shop on Boulevard des Italiens N.24, in Paris. In the mid 1860's, the name of the company changed to "G. Viot & Cie" and produced, after models created by the most well-known sculptors, such as Eugène Cornu, Albert Carrier-Belleuse (1824-1887) (Victoria & Albert Museum, Inv. 9070-1863), Charles Cordier (1827-1905) (Orsay, Inv. RF 2996) ou Louis-Ernest Barrias (1841-1905) (Orsay, Inv. RF 1409), luxurious furniture and art objects, incorporating onyx marble and bronze, with sometimes enamel, a combination then considered as a novelty and become quickly highly prized among wealthy collectors. They showed together on their booth at the 1867 Universal Exhibition held in Paris a fine pair of onyx, bronze and enamel vases and their stands with elephants figures (signed « G. Viot et Cie, Exposition de 1867, Eugène Cornu Inventeur » ; Catalogue Officiel de l'Exposition, groupe III, classe XIV, « meubles de luxe », n°65) for which they won the Gold Medal (Rapports du Jury International, Exposition Universelle de 1867 à Paris, 1868, t. III, groupe III, classe XV, chapitre II, § 2, p°45 & 46). Around 1873, Eugène Cornu became director of the Company and replaced G. Viot, which took then the name of « Société des Onyx d'Algérie E. Cornu et Cie ». Around 1878, the company was then headed to H. Journet from which it took his name. That firm remained opened until the beginning of the 20th century.
Tobogan Newsletter
If you want to be up-to-date with our new acquirings you can sign up to our newsletter.