1249/0
G. Fabre
Clock-maker & Bronze-caster
(Active around 1900)
A « Genius of the Arts » Clock Set
Dial signed G. Fabre, 4 rue des Filles du Calvaire, Paris
Clockwork signed Samuel Marti – Médaille d'Or 1900
France
Circa 1900
Clock – Height : 47 cm (18,5 in.) ; Width : 40 cm (15,7 in.) ; Depth : 13 cm (5 in.)
Candlesticks – Height : 50 cm (19,6 in.) ; Width : 26 cm (10,2 in.) ; Depth : 14 cm (5,5 in.)
A beautiful Louis XVI style gilt-bronze and statuary Carrare marble clock set, consisting of a clock and a pair candelabra. The clock is surmounted by two putti, leaning the dial, representing the « Geniuses of the Arts », Poetry and Painting. The base is adorned with neoclassical decorative elements such as scrolls, rows of pearls and foliate feet. The ensuite candelabra, made of ormolu and white marble, are composed of Bacchic children, after 18th century models by Clodion. Each holding two light arms, dressed in leopard skins and vine branches, a wineskin at his feet.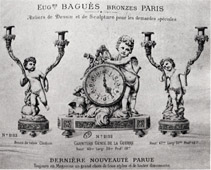 This clock set is to be linked to the one made by the famous parisian Baguès company, named « Geniuses of War » set, for which the clock is different, but the pair of candelabra similar (Commented and reproduced in « Vergoldete Bronzen », H. Ottomeyer and alii, Klinkhardt & Biermann, Munich, 1986, T. I, p° 422).
Biography
Gilbert Fabre is listed at the turn of the twentieth century among manufacturers of quality bronzes. They also produced many clocks and mantle decorations, whose works were manufactured by the wellknown Samuel Marti, installed Rue Charlot in Paris in 1860. Gilbert Fabre in 1919 sold his business to Chardon company, an art foundry from Belgium in 1878 then.
Bibliography
Dictionnaire des horlogers Français, Tardy, 1971, p°219.
Tobogan Newsletter
If you want to be up-to-date with our new acquirings you can sign up to our newsletter.