ref. 1725
t. johnson
Sculptor (1714-1778)
(After)
Important « Chinese » Clock
England
Circa 1860
Giltwood
Height : 202 cm (79,5 in.) ; Width : 171 cm (67,3 in.) ; Depth : 22 cm (8,6 in.)
Provenance : Charles Scarlett Jr., Whitehall, Annapolis, USA
Important clock with a mirror background of Rococo inspiration with a rich sinuous and  asymmetrical decoration representing a Chinese couple above a cave, in an environment formed by scrolls, arches and columns. The scene is topped by a winged dial engraved with a hunting scene. A radiant masked sun rising from the clouds dominates the whole.
This clock has an ingenious mechanism with two melodies striking the quarter-hour, half-hour and hour.
related work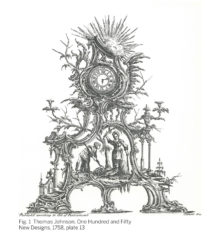 This impressive clock has been created after a design by the London woodcarver Thomas Johnson, published first in 1758 then in 1761 in One Hundred and Fifty New Designs (plate 13). Thomas Johnson (1714-1778) was one of the main proponents of the French-inspired Rococo taste in English decorative arts during the 1750s, along with Matthias Lock and Thomas Chippendale.
provenance
Whitehall was built by Horatio Sharpe, the last governor of the colony of Maryland, on the Chesapeake Bay east of Annapolis starting in 1763-69. He went to London on family business in 1773 and was prevented from returning by the Revolution. The house was sold to Sharpe's former secretary John Ridout and remained in the Ridout family until 1895. It was acquired by the Baltimore businessman Charles Scarlett Jr. in 1946, who completely restored the property and furnished the interiors. The estate is now managed by a foundation with the mission of preserving the house and supporting educational and conservation initiatives.
Tobogan Newsletter
If you want to be up-to-date with our new acquirings you can sign up to our newsletter.