Ref. 376
C. Matifat
Bronze caster
(Active since 1840)
Display table
Signed Matifat, Paris 1851
France
Height : 80 cm (31,5 in.) ; Width : 85 cm (33,5 in.) ; Depth : 67 cm (26,3 in.)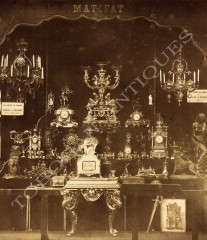 Masterpiece presented at the 1851 Universal Exhibition held at the London Crystal Palace.
(Reproduced and commented in "Exhibition of the Works of Industry of All Nations 1851", Reports by the juries, Vol.III, p°1106)
Exceptional gilt and chased bronze table, with a porphyry marble top surrounded by a border of acanthuses and pearl motifs. Supported on four legs in the shape of gryphon heads, whose wings are made of acanthus leaves. Resting on four clawed feet.
Biography
Charles Stanislas Matifat studied under the direction of the silversmith Antoine Vechte. He then succeeded his father in 1840 at the head of the family business founded in 1820, whose workshops were located No. 9 rue de la Perle in Paris. Charles Matifat exhibited for the first time in his own name at the Paris Exhibition of Industrial Products in 1849, where the jury awarded him a silver medal. At the Universal Exhibition of 1851, taking place in the stunning Crystal Palace in London, Charles Matifat (No. 923 of the French section) presented among many pieces, this table entirely made of gilded bronze and a large Louis XIV style chandelier commissioned by the king of Holland, William III, to his palace in The Hague. His show widely commented by critics earned him a second class medal. In 1853, Matifat who already had premises in London, participated in the Exhibition of Industrial Arts in Dublin. He worked a lot for the English nobility, such as Lord Londesborough who commissioned bronze candelabra. At the London Universal Exhibition of 1862, Matifat presented a chandelier made for the Duchess of Sutherland. In addition to his small scale art production, Charles Matifat also produced monumental bronze works after the great French sculptors models. He cast in 1860 the statue of the Marquis Dupleix, sculpted by Theodore Gruyère, then in 1873 the statue of General Daumesnil, sculpted by Louis Rochet. The same year, he made two important casts : The Abruzzo Child after the plaster sent from Rome by André-Joseph Allar and the Fountain of the Four Parts of the World created by Jean-Baptiste Carpeaux and Emmanuel Frémiet in the Observatory gardens in Paris. During this period, Charles Matifat made several lampposts in the Grand Staircase of the new Opera recently built by Charles Garnier.
Bibliography
Cristal Palace, Album de l'Exposition, 1851, p. 265.
The Art Journal illustrated Catalogue, The Industry of all Nations, London, 1851, p. 48-50 & 324.
Tobogan Newsletter
If you want to be up-to-date with our new acquirings you can sign up to our newsletter.