ref. 1709
Marnyhac
Bronze-caster
(Active from 2nd part of the 19th century)
(attributed to)
African Venus
France
Circa 1870
Height : 131 cm (51,5 in.) ; Width : 63 cm (24,8 in.) ; Depth : 35 cm (13,7 in.)
Exceptional planter in chiseled and gilded bronze and Algerian onyx representing a young African woman kneeling, carrying an oval bowl decorated with foliage. She is dressed with a loincloth, wearing an egret and adorned with many jewels. It rests on a square base decorated with gilded bronze.
Related work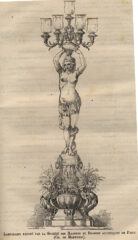 A model of a similar African Venus, mounted in floor lamp, has been exposed by Marnyhac during the Universal Exhibition of Paris in 1878
Biography
Marnyhac et Cie was used as the commercial name for the Société des Marbres et Bronzes Artistiques de Paris (the Paris Marbles and Artistic Bronzes Society) which was established since the middle of 19th century in Paris, on the Opera avenue and then at N.1, rue de la Paix. Managed by Charles de Marnyhac, the bronze-foundry company specialized production of luxurious pieces as well as casts from models made by the greatest sculptors of the time, such as Jean-Baptiste Clésinger (1814-1883), Amédée Charron (1847-1937) and Eugène Despléchin (1852-1926). The Marnyhac firm was awarded a medal at the 1878 Universal Exhibition, and showed again their works at the Paris Universal Exhibition of 1900. The company closed down around 1910.
Bibliography
Great Exhibitions 1851-1900, Jonathan Meyer, Antique Collector's Club, 2006, p°241.
L'Art et L'Industrie de tous les peuples à l'Exposition Universelle de 1878, Librairie Illustrée, Paris.
Tobogan Newsletter
If you want to be up-to-date with our new acquirings you can sign up to our newsletter.