ref. 1140
F. Blayn
Painter
(1853-1892)
"The Saint-Cloud Fair"
Signed and dated F. Blayn, 1892
French School
Oil on canvas
Measurements with frame : Height : 117 cm (46 in.) ; Width : 138 cm (54 1/3 in.)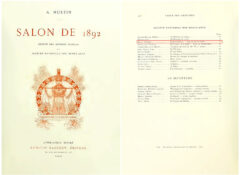 Painting exposed under n°127 at the 1892 Salon des Artistes français
Genre scene presenting a mother in front of her trailer preparing her two girls to the circus of the Saint-Cloud Fair.
Throughout the eighteenth and nineteenth centuries, during the holy Cloud pilgrimage, sumptuous feasts were given in the Saint-Cloud park. Each September, one of the oldest France funfairs gathered Parisians, merchants, showmen and actors.
Biography
Fernand Blayn (1853-1892) studied painting under Alexandre Cabanel (1823-1889). He specialized in portraits and genre paintings depicting everyday-life scenes. F. Blayn exhibited from 1878 at the Salon of French Artists. He obtained a third class medal at the 1886 Salon and a bronze medal at the Salon of 1889. Dedicated to the circus, the composition of this painting, painted the year of the death of the artist, of flawless execution, is distinguished by fine and delicate tones. The expression of faces as the care given to the quality and texture of fabrics reveal the brilliant art of the artist.
Museology
– Segré City Hall, Wedding Room : Le Repas du Soir (1889)
– Picardie Museum, Amiens : Le Retour des Pêcheurs
Bibliography
Dictionnaire des peintres, sculpteurs, dessinateurs et graveurs, Bénézit, éd. Gründ, 1976, t.II, p.77
Tobogan Newsletter
If you want to be up-to-date with our new acquirings you can sign up to our newsletter.