Ref. 1778
E. Lièvre
Designer
(1828-1886)
 (Attributed to)
Japanese style Lamp
Japan – France
Circa 1880
Enamel porcelain, Gilded bronze
Height with lampshade : 133 cm (52,3 in.) / without lampshade : 125 cm (49,2 in.) ;
Diameter : 86 cm (33,8 in.)
Important Japanese style gourd-shaped lamp, made with a polychrome Kutani porcelain vase decorated with lake scene and flowers in cartouches, in the middle of flying waders on a red background. It is covered with a beige pleated silk lampshade, embroided with flowers and waders. It rests on an « old gold » patinated bronze base with stylized openwork decoration, topped with a Fô dog on each foot. 
Related work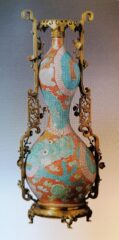 Japanese enamel porcelain vase in a Japanese style mount by Edouard Lièvre, circa 1875.
Reproduced in Connaissance des arts Edouard Lièvre, H.S. n°228, p.8.
Biography
Edouard Lièvre (1829-1886) studied under the painter Thomas Couture (1815-1879), one of the more conspicuous artists in the circle of the Empress Eugenie. E. Lièvre soon devoted himself, however, to the art of furniture design. A talented ornamentalist, marked by the eclecticism typical of the Second Empire, Lièvre knew how to avail himself of skillful collaborators in order to create pieces in various styles: Renaissance, Louis 16th or Oriental, which last were part of the great artistic movement in fashion since the 1860's: the Japanese style named also Aesthetic Movement. they recreated an imaginary Far East adapted to decorate Western reception rooms. As an Interior decorator Lièvre also matched his luxurious and refined furniture with bronzes, ceramics and even fabrics. This Oriental exoticism, which only the richest could afford, appealed to bankers, judges, artists and famous courtesans as well as the Royal and Princely families. After the death of Edouard Lièvre, the greater part of his models, sketches and cabinet designs were bought by art publishers such as « l'Escalier de Cristal » or by Ferdinand Barbedienne, thus giving them the right to reproduce Lièvre's furniture with their own stamp (see « Ventes de la succession Lièvre »,  Hotel Drouot, 27 fevrier 1890).
Tobogan Newsletter
If you want to be up-to-date with our new acquirings you can sign up to our newsletter.