Ref. 511/5
A rare marquetry bureau plat
France
Circa 1880
Height : 81 cm (31,8 in.) ; Length : 183 cm (72 in.) ; Depth : 96 cm (37,8 in.)
A rare double-side Louis XV style flat desk, made of kingwood and satinwood veneer ; opening with three drawers decorated with a beautiful flower motif end-cut wood marquetry. With fine chased and gilded bronze enrichments made of rococo motifs. Topped with a tooled red leather writing surface. Raised on four ormolu-mounted cabriole legs.
related work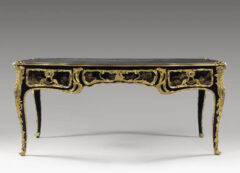 After the famous 18th century model known as the « Choiseul desk » made by Jacques Dubois (1693-1763) around 1750 for the Château du Raincy. Now preserved at the Paris Louvre Museum (OA 6083).
(Reproduced in « Le mobilier Français du XVIIIème siècle », par P. Kjellberg, Ed. de l'amateur, 1989, p°269)
Tobogan Newsletter
If you want to be up-to-date with our new acquirings you can sign up to our newsletter.