ref. 1727/0
Tahan
Cabinet- & fine Boxes maker
(1813-1892)
(attributed to)
Charming writing-desk
France
Circa 1870
Brass, Mother-of-pearl, Shell, Horn
Height : 18 cm (7 in.) ; Width : 30,5 cm (12 in.) ; Depth : 27 cm (10,6 in.)
Charming Napoléon III period writing-desk in the Boulle style marquetry, decorated on all sides with fine symmetrical guilloche interlacing in engraved brass applied on a background of red tortoiseshell, blue-stained horn and mother-of-pearl, bearing the monogram « E.P » on a central badge.
It opens to reveal an elm burl veneered interior including two letter holders, a storage for feathers and two compartments for crystal inkwells with monogrammed copper cover. The lower part forming a desk is covered with a red  leather.
related work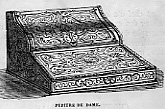 Lady's desk, by Tahan, presented at the Universal Exhibition of 1851, Crystal Palace, London
Biography
Jean-Pierre-Alexandre Tahan took over his father business, already specialized in jewel caskets and liquour cellarettes as well as in luxurious small furniture registered under the « tabletterie » category. Thanks to him, the Tahan company knew much success and became one of the most famous firms in Paris. They settled rue de la Paix, from 1849 until 1866, then boulevard des Italiens, both fancy Parisian addresses under the Second Empire in the newbuilt Opera district. Tahan became also very quickly one of the favorite providers of Emperor Napoléon III and Empress Eugénie. He delivered to the imperial palaces numerous tables, vitrines, cellarettes and further fine decorative objects. In other words, he was definitively the great specialist of precious and highly selected objects. The Tahan house participated in various Universal Exhibitions, where they were steadily awarded medals : a silver medal in 1849, another one in London in 1852 and the gold medal in Paris in 1867.
Tobogan Newsletter
If you want to be up-to-date with our new acquirings you can sign up to our newsletter.