Ref. 874/2
Rare "Royal" commode
France
Circa 1880
Height : 88 cm (34,6 in.) ; Width : 151 cm (59,5 in.) ; Depth : 63 cm (24,8 in.)
The serpentine brèche d'Alep marble top above two drawers decorated with gilt-bronze hanging floral garlands, scrolling foliage and trellis parquetry, the curved sides similarly decorated and each set with a cupboard door, the angles clasped with scrolling acanthus, on tapering legs with pawcast sabots.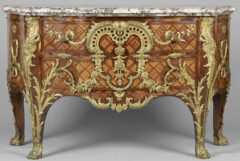 The model of this commode was made by Charles Cressent in 1739 for King Louis XV's bedroom, in the Château de La Muette, and is now still preserved in the Louvre Museum in Paris (Inv. 10900).
Biography
Charles Cressent, famous French cabinet-maker and sculptor. He was taught by his father, François Cressent, a sculptor in Amiens, and became a maître ébéniste on 9 January 1708. He subsequently became a pupil of François Girardon and became a maître sculpteur in the Académie de Saint-Luc, Paris, on 14 August 1714. He obtained the title of Ebéniste du Régent in 1719, which allowed him to trade as a cabinet-maker free from guild restrictions. The richest French patrons, the Portuguese Court and many German princes bought furniture from him. His work is of exceptional quality and epitomizes the Régence and early Louis XV styles, to which he remained faithful throughout his career. The forms of his pieces were perfectly curved and rendered sumptuous by abundant, virtuoso bronze mounts and emphatically serrated agrafe ornaments and moldings. His lavish mounts to some extent obscured the restrained veneering or geometric marquetry, for which he almost always used rose-wood, purple-wood or satin-wood. Above all, however, he was a sculptor, and he contravened guild restrictions by modeling the bronzes that adorn his furniture himself. These bronze figures were combined with vegetation consisting of palms, vines and garlands of flowers, which emphasized the furniture's contours. He also made many, predominantly bronze, cartel-clocks, the most remarkable of which depicts the theme of Love Conquering Time (c. 1747; London, Wallace).
Tobogan Newsletter
If you want to be up-to-date with our new acquirings you can sign up to our newsletter.