ref. 1392/53
G. Raffaelli
Mosaicist
(1753-1836)
(attributed to)
Center table
France
Circa 1825
Maple, amaranth, marble, pietre dure, micro-mosaic
Height : 75 cm (29 ½ in.) ; Diameter : 99 cm (39 in.)
A Charles X period center table veneered with maple, resting on a central foot ended with three imposing claw-feet. The base and the belt of the table are adorned with an amaranth marquetry decoration showing palms, vases and foliage garlands.
A remarkable marble and "pietre dure" marquetry top showing a large rosette motif above the table. The rosette is made of 140 different marble and "pietre dure" pieces creating thus a unique concentric decoration. The polychrome marbles are skilfully put together and participate to the decoration of this table top and gives it all its value. A centering micro mosaic medallion represents a dancing putto.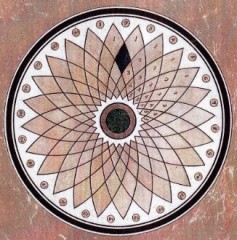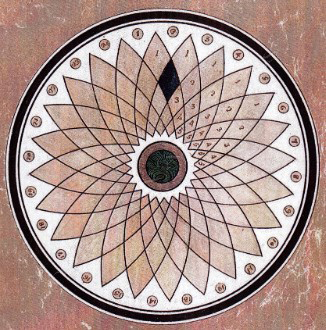 A similar table top was made by Giacomo Raffaelli (1753-1836) in 1831 and acquired by The Hon. John and Lady Augusta Kennedy-Erskine.
Giacomo Raffaelli provided a detailed description of all of the marbles with this table top. Of the 148 specimens used, 40 were Pietre Dure, 31 were Oriental, 12 were Antique, 7 were Egyptian, 5 were Chinese, 4 were German and 2 were Siberian.
Biography
Giacomo Raffaelli (1743-1836) was probably the most talented mosaicist in Rome during the last quarter of the eighteenth and the beginning of the nineteenth century. He was one of the first, if not the first, to have worked in "mosaico in piccolo", or micromosaic in about 1775. This new technique permitted the meticulous virtuosity that was so coveted by the connoisseurs of the neo-classic era. Raffaelli, was certainly regarded as the supreme craftsman in this technique, and worked not only for the papacy but also for foreign courts, like that of Stanislaus Poniatowski in Poland. He was invited to Russia by the imperial government but refused, accepting instead an invitation to the Milanese court of Napoleon, where his technical mastery was particularly appreciated. He produced there one of his masterpieces – the mosaic mural copy of Leonardo's Last Supper, now in the Minoretenkirche in Vienna. Raffaelli stayed in Milan even after the fall of the Napoleonic Empire (1814), but he eventually returned to Rome.
Museology
– Clock presented as a gift by Napoleon to Pope Pius VII (preserved at the Fontainebleau Castle).
– Table with a comparable top presented as a gift by Pope Pius IX to Empress Eugenie (preserved at the Hotel Matignon, in Paris).
Tobogan Newsletter
If you want to be up-to-date with our new acquirings you can sign up to our newsletter.