Jacob de Wit
Painter
(c.1695-1754)
After
"Putti playing in a river"
Circa 1880
Height: 154 cm (60,6 in.); Width: 102 cm (40,1 in.); Depth: 5 cm (1,9 in.)
Charming pair of paintings inspired by the famous decorative repertoire of Jacob de Wit's grisailles (1695-1754) in which playing putti are depicted in the centre of idyllic compositions.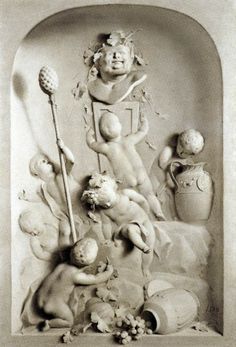 Jacob de Witt (1695-1754), "Allegory of four seasons – The autumn", 1751-52. 
Oil on canvas. Staatliche Museen, Kassel.
Biography
Placed very young with the painter Jacob Van Hal, Wit learns about the great Flemish painting, and Rubens in particular, from whom he drew in 1711-12 the ceilings of the Jesuit church, burned in 1718 (3 complete series are conserved: in Antwerp, the British Museum and the Courtauld Institute, Seilern collection in London). As the first Catholic painter in Holland since the Réforme, he received numerous commissions. Shared between an inspiration all rubénienne and Catholic churches expectations (Pentecost 1722 in Roermond cathedral; Resurrection of Christ for the St. Lawrence Church, Alkmaar, now conserved in the Episcopal Museum Haarlem; a very important cycle of religious paintings made from 1716 in the church Moses-and-Aaron, Amsterdam) and the painting of ceiling for wealthy individuals homes in Amsterdam, La Haye and all major cities of the Netherlands. Wit spread tirelessly a pleasant traditional Italian "rococo" decorative style that makes him a real Dutch Tiepolo. His art also has undeniable relationship with Vouet, he had known through Dorigny's engravings. In this way, Jacob de Wit brings a quite unexpected and considerable brightness in the Dutch painting of the 18th century.
Museology
Jacquemart-André Museum, Paris ; Louvre Museum, Paris ; Staatliche Museen, Kassel; Rijksmuseum, Amsterdam.