Réf. 1565/2
Paris Porcelain
A "tête-à-tête" Tea Set
Marked Gailliard / Passage de l'Opéra
A very charming Paris Porcelain tea set for two, called « tête-à-tête », with a quadrilobate tray, a pair of cups and saucers, a sugar basin, a milk jug and a teapot. This is a beveled corners Gothic Revival (called « à la cathédrale ») service with an alternatively blue and salmon pink painted decoration, enriched with gold. The Gothic arcades and the central rose of the tray evocate the Gothic style, and medallions ornate the serving pieces.
This tea set perfectly corresponds to the description of a « tête-à-tête à pans » sold by Gailliard in 1843, when historic styles, like Gothic Revival, were fashionable in Paris and in Europe.
Related work of art & museology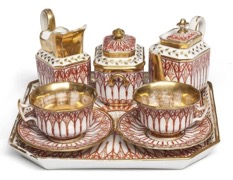 Tea Set called « à la cathédrale »
Circa 1830
Paris, Musée des Arts décoratifs
2013.140.1-8
Biography
Paris Porcelain, usually known as « Vieux Paris », is a hard paste porcelain of a pure milky and bright white, painted and often gilded. Most of the time, Parisian workshop only decorated the white pieces coming from Limoges or Parisian suburbs manufactures. Gailliard was one of this decorator and managed a renowned workshop, passage de l'Opéra, in the 1840's.
Bibliography
Cathédrales 1789-1914. Un mythe moderne, Catalogue d'exposition, Rouen, Musée des Beaux-Arts, 12 avril-31août 2014, Paris, Somogy, 2014
Régine de Plinval de Guillebon, Faïence et porcelaine de Paris, Dijon, Faton, 1995.
Ludwig Danckert, Manuel de la porcelaine européenne, Paris, Bibliothèque des arts, 1973.
Tobogan Newsletter
If you want to be up-to-date with our new acquirings you can sign up to our newsletter.