ref. 1397/0
Pair of Perfume Burners "with the Three Graces"
France
Circa 1880
Height. : 39 cm (15,3 in) ; Diam. : 14 cm (5,5 in)
Charming pair of gilded bronze and marble perfume burners representing the three graces playing around a finely wrapped column, in the manner of Etienne Falconet (sculptor, 1716-1791). Each group supports an openwork incense burner with twisted ribs, resting on a scrolling frieze and crowned by a flower bouquet. This piece stands on a fluted base which sits on top of a white marble circular plinth.
related work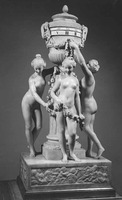 Several variations of bronze models featuring the three graces and made in the 18th century are known. They were very successful during the 19th century. A probable inspiration for these groups would be the white marble clock by Etienne-Maurice Falconet (1716-1791), circa 1770, which is in the collections of the Louvre Museum (OA6525).
museology
A clock by François Vion, bronze-caster (circa 1740-1790) and Le Paute (clock-maker dynasty), whose three graces groupe is similar to ours, is in the collection of Fontainebleau Castle.
Tobogan Newsletter
If you want to be up-to-date with our new acquirings you can sign up to our newsletter.