ref. 1660
Pair of armchairs "à la Reine"
France
Circa 1880
Height : 103 cm (40,5 in.) ; Width : 72 cm (28,3 in.) ; Depth : 55 cm (21,6 in.)

Carved and gilded wood
Beautiful pair of carved and gilded wood Louis XVI style armchairs. The « à la reine » backrest and the curved crosspiece are adorned with a frieze of interlacing enriched with flowers in their center, and the armrests consoles are decorated with friezes of beaded water leaves covered with acanthus leaves. They rest on four rudented flutted feet.
related work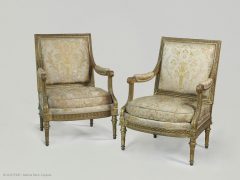 These armchairs are executed after the Louis XVI "Games" Salon at the Castle of Saint-Cloud executed in 1788 by the cabinetmaker and carpenter Georges Jacob (1739-1814) and the gilder Louis-François Chatard (1749-1819). The Louvre has a pair (OA 9449a and 9449b), bearing a label of the Garde Meuble de la Couronne stating their provenance.
Biography
After he became a master in 1765, Georges Jacob (1739-1814) worked from 1773 to the French Revolution for the Garde-Meuble de la Couronne. His clientèle included Louis XVI and Queen Marie-Antoinette, the royal family, and in particular the comte de Provence (future Louis XVIII), the comte d'Artois (future Charles X), the prince de Condé, the duc de Penthièvre and foreign courts. In 1785, he created the first mahogany chairs 'à l'anglaise' for the comte de Provence. He launched the Etruscan style when delivering a set of sculpted mahogany for the dairy of the Rambouillet Castle in 1788. He also took part in the furnishing of the Petit Trianon in Versailles. Thanks to the painter David, Georges Jacob went through the revolutionary period without particular problems. He retired in 1796, and his sons succeeded him, but came back soon after to help his sons delivering the furniture for the imperial residences, including Napoleon 1st's.
bibliography
Le Mobilier du Musée du Louvre, Bill G.B. Pallot, Ed. Faton, Dijon, 1993, Vol. 2 , p.166
Tobogan Newsletter
If you want to be up-to-date with our new acquirings you can sign up to our newsletter.