P. Thomire
Bronze-caster
(1751-1843)
after
Empire style console
France
First half of the 19th century
Height : 107 cm (42 in.) ; Length : 190 cm (74 3/4 in.) ; Depth : 51 cm (20 in.)
Rare Empire style Side-board console made in mahogany, enriched with superb bronze ornaments kept with their original gilding. Topped with « Cipolin » marble.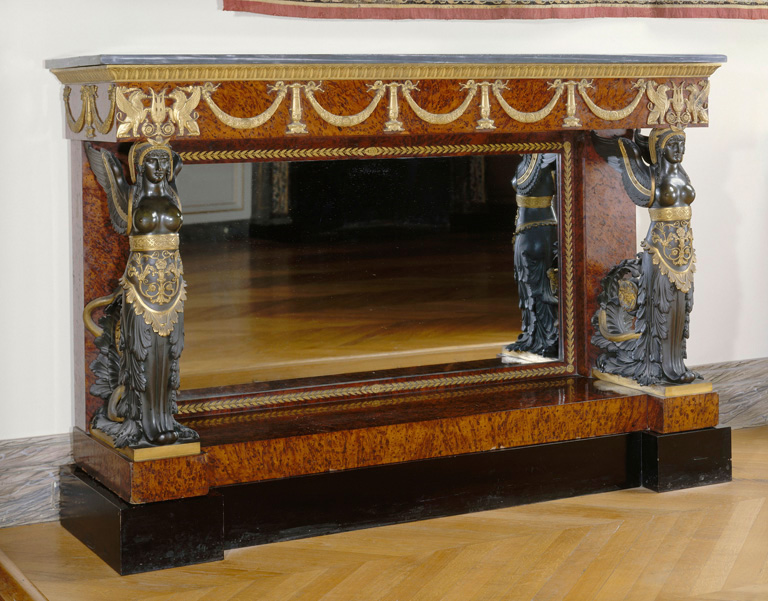 This console is to be linked to the one made by Pierre Thomire around 1805 and now exhibited in the Louvre Museum (Inv. OA 9969).
Biography
Pierre Thomire (1751-1843) was considered as one of the most talented bronze-chaser under the First Empire. He studied chasing with the renowned Gouthière and founded then, in 1776, his workshop, where all the famous cabinet-makers and the Sèvres Manufacture, as well as for himself, went into to embellish their own production. Thomire was many time commissioned by Napoleon I and Joséphine to ornate with candelabras, clocks and many other decorative objects the different French residences of the Imperial couple, such as the Tuileries Palace, the Saint-Cloud Palace, the Fontainebleau Palace and their private mansion at Malmaison.