Ref. 1646 et 1756/1
p. sormani
Cabinet-maker
(1817-1877)
Pair of dressing tables

Signed on the keylock P. SORMANI PARIS 10 r. Charlot and SORMANI PARIS 134 Bould Haussmann
France
Circa 1870
Height : 73,5 cm (28,9 in.) ; Width : 73 cm (28,7 in.) ; Depth : 36 cm (14,2 in.)
Origin : Property of la Roberdière in Luynes (Touraine, France)
Elegant pair of Transition style dressing tables, decorated on the belt with flowers marquetry in reserves of tobacco wood, on a rosewood background.
The tray is surrounded by a gilded bronze mold and adorned in its center with an end-cut marquetry bouquet of flowers on a backrground of tobacco wood bounded by thin nets, of ebony, boxwood and amaranth, framed by a frieze of rosewood rhombuses. It slides back to reveal a drawer with a central mirror and two side panels decorated with marquetry.
They rest on four curved legs ending with chiseled and gilded bronze foliated hooves.
Paul Sormani was inspired by the creations of Jean-François Oeben, renowned for its delicate floral marquetry, who specialized in mechanical furniture, developing the mechanical table, at the same time reading table, writing and dressing table, whose tray was sliding at the same time as the drawer was moving.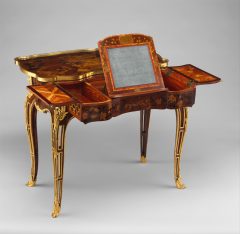 Mechanical table by J.-F. Œben and R.V.L.C,
around 1761-1763,
Metropolitan Museum of New-York
Biography
Paul Sormani, born in Italy in 1817, dead in 1877, specialized at first in the making of small furniture. He installed 1854 his workshops at the n°114 rue du Temple in Paris. The Sormani company knew then a great success and was much in favour with the Imperial Family as well as with the Paris high society. Empress Eugénie furnished then her palaces in the Louis XV and Louis XVI styles, with some of Sormani's creations. Presenting his work at all important fairs, such the 1849 Exposition of the Industrial Products or the Universal Exhibitions from 1855 until 1867, Sormani was then honored by jurys for his « production of high standard quality » and won the highest awards. In 1867, by the time of the great Universal Exhibition, Sormani enlarged and transfered his workshops to the n°10 rue Charlot. When Paul Sormani died in 1877, his wife and son took over the business and from this date onwards pieces are normally signed « Veuve Sormani & Fils à Paris ». After World War I, they went into partnership with Thiébaux and the company premises were then installed at n°134 boulevard Haussmann until 1934.
Jean-François Oeben (1721 – 1763) is a cabinet-maker, born in Rhenany and arrived about 1740 in Paris. He was apprenticed from 1751 to 1754 to the youngest of André-Charles Boulle's sons: Charles-Joseph Boulle. In 1754, he was appointed ébéniste du roi and obtained a workshop in the Manufacture des Gobelins, and later at the Arsenal in 1756. King Louis XV and Madame de Pompadour were his most important clients. Designer, cabinet-maker, inlayer and mechanic, he invented the roll-top desk of which the most famous example is Le bureau du roi Louis XV. His work evolved from the Louis XV style to the "greek" style at the beginning of the neo-classic period. He was the master of many artists, such as François Leleu and Jean-Henri Riesener.
Bibliography
Alexandre Pradère, Les ébénistes français de Louis XIV à la Révolution, Chêne, 1989 ; p. 255
Tobogan Newsletter
If you want to be up-to-date with our new acquirings you can sign up to our newsletter.