O. Gladenbeck
Bronze-caster
(1850-1921)
"The five senses"
Signed O. Gladenbeck
Berlin – Allemagne
Circa 1890
Height : 42 cm (16 1/2 in.) ; Width : 14 cm (5 1/2 in.)
With frames – Height : 58 cm (22 3/4 in.) ; Width : 28 cm (11 in.)
Rare set of five patinated high-relief bronze plaques representing female figures symbolizing the Five Senses. The German title of each is shown on a fine golden brass tag. « Gefühl » for Touch (a young woman in a forest, leaning on a column, bathes her foot to a source), « Gehoer » for Hearing (a woman among the reeds, holding panpipes, is listening), « Gesicht » for Sight (the third one leaning on a console looks at herself in a mirror), « Geruch » for Smell (another woman in a garden smells the scent of roses) and « Geschmack » for Taste (one woman picking apples, a fruit basket at her feet).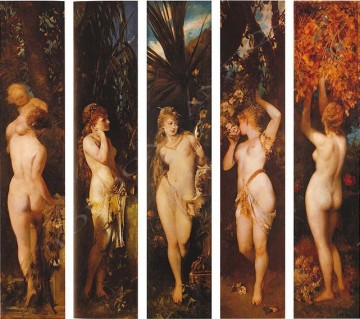 The Five Senses by Gladdenbeck are directly inspired by the famous painted polyptic made around 1878 by the Austrian artist Hans Makart (1840-1884), now exhibited at the Österreichische Galerie Belvedere in Vienna.
Biography
Gladenbeck Hermann (1827-1918) was a bronze founder from Berlin, of international reputation in the 1850s. He led his company in 1880 with his four sons, Oscar (1850-1921), Alfred (1858-1912), Walter (1866-1945) and Paul (1869-1947) as the Gladenbeck & Son. Their bronze foundry produced many large pieces ordered by the State, as the monument to the memory of Emmanuel Kant and the Victory of the Victory Column in Berlin, modeled by Friedrich Drake. Gladenbeck is considered as the most important German foundry that produced monumental sculptures as well as small bronze pieces. The company ceased to be led by the family Gladenbeck in 1892, then ceased activity in 1911 following a bankruptcy.
Museology
Cassandre, a bronze bust modeled by Max Klinger, cast by Gladenbeck around 1892, Orsay Museum, Paris (Inv. RF4302).