KRIEGER
Cabinet-Maker
(active in the second half of the 19th century)
Important chest-of-drawers
Signed KRIEGER PARIS on the  lock of the drawers, and on a metal plaque
France
Circa 1880
Height: 91cm (35,8 in.) ; Width: 148,5 cm (58,5 in.); Depth. 59cm (23,2 in.)
This mahogany, mahogany veneer, darkened wood, and gild and chiselled bronze commode in the Louis XVI style opens with three drawers sitting on top of three leaves. Rich and fine ornementation made of gilded and chiselled bronze presenting female masks, ibexes, young satyrs among grapes and foliage, egg-and-dart friezes, and ribbons. It features upright ribbed columns on the angles and ribbed toupie feet. The top is made of veneered white marble.
Krieger took as a model a very characteristic type of commode by A.Weisweiler, one of the greatest cabinet-makers of the 18th century. Weisweiler created several variations on his successful models, including a series of commodes with leaves such as our piece of furniture : tripartite facade, toupie feet, veneered panels framed with bronze rods, detached ribbed coloumns, with or without a bronze frieze.
Related Works
Our commode is similar to the one created by Adam Weisweiler and delivered by the marchand-mercier Daguerre in 1788 for the cabinet intérieur of the King Louis XVI at the Château de Saint-Cloud. The original commode is kept at the Château de Compiègne in the Empress Bedroom (C46020). A pair of similar commodes is kept at the Louvre Museum.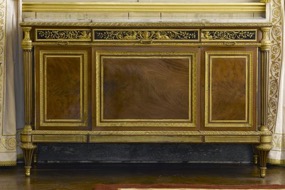 Commode by A.Weisweiler, 1788, collections of the Château de Compiègne
This type of commodes was also produced with lacquer or vernis européen panneling. Two of these are in the collections of the Metropolitan Museum of Art (Wrightsman collection, 1977.1.12) and of the Kansas City Museum.
Biographies
Antoine Krieger (1804-1869) launched the cabinetmaking branch of Maison Krieger in the middle of the 19th century, before setting an important inner decoration department which provided much success and prestige to the company until 1945. The Krieger firm made allthe  sketches and designs in ancient as well as contemporary styles. A thousand workers were employed at n°74-76 rue du Faubourg-Saint-Antoine in Paris, producing luxurious and standard furniture. The high quality making gave birth to oakwood or mahogany cabinets decorated with finely chosen veneers. The Krieger firm won a second-class medal at the 1851 Universal Exhibition of London and took part in many international exhibitions, such as Paris in 1855.
Adam Weisweiler (1744-1820), became Maître ébéniste on the 26th of March 1778. He settled rue du Faubourg Saint Antoine. Weisweiler was one of the greatest cabinet-makers of the Louis XVI periof. Of German origins, he supposedly trained with the Roentgen. He came to France before 1777, when he got married in the capital. He worked essentially for marchands-merciers such as Daguerre, who sold his works to Queen Marie-Antoinette. With a great technical dexterity, he developped a very personnal style playing on different materials such as pietra-dura, lacquer or Sèvres porcelaine plaques. Unlike the majority of cabinet-makers, the French Revolution did not affect his production. Weisweiler worked for Queen Hortense during the Empire period. A great part of his production is housed in public collections such as the Louvre Museum, the Museum of Decorative Arts in Paris, and the Metropolitan Museum of Art.
Bibliography
D. Ledoux-Lebard, Denise, Le Mobilier Français du XIXe siècle, Dictionnaire des Ebénistes et des Menuisiers, Editions de L'Amateur, Paris, 1984, p.146-151.
P. Kjellberg, Le Mobilier Français du XVIIIe siècle, Dictionnaire des Ebénistes et des Menuisiers, Editions de l'amateur, Paris, 1989, pp. 863-874
A. Pradère, Les Ebénistes Français de Louis XIV à la Révolution, Editions du Chêne, Paris, 1989, p. 396.
P. Verlet, Le Mobilier Royal Français, Picard, Paris, 1990 ; Vol. I, plate XXIII, no.18.