J.-L. Prieur
Bronze-chiselor
(18th Century)
after
A fine pair of Louis XVI style wall-lights
France
Circa 1870
Height : 61 cm (24 in.) ; Width : 31 cm (12 1/4 in.)
A pair of two-light sconces made in finely chiseled and gilded bronze. Each with a « gun barrel » shaft surmounted by a pine cone and entwined with foliage. The scrolled fluted and twisted arms, each with a goat-head terminal and with birds supporting the foliate and fruiting festoon.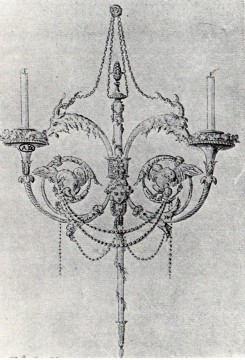 Model executed after a drawing attributed to Jean-Louis Prieur, now preserved at the Decorative Arts Museum in Paris. Other casts are now part of some great collections, such the pair exhibited at the Château de Fontainebleau.
(Commented in H. Ottomeyer, et alii, Vergoldete Bronzen, T. I, Klinkhardt & Biermann, Munich, 1986, p° 241)
Biography
Jean-Louis Prieur (born circa 1725) was the most famous member of the Prieur family, an important dynasty of ciseleurs (chiselors). Active from 1765 to 1775, he was a member of Académie de Saint-Luc at the time of its dissolution in 1776. He was known as an « ornament sculptor, modeleur and ciseleur ». In 1777, he lived at Faubourg Saint-Denis. He was chosen to execute the ormolu ornamentation for the coach of King Louis XVI coronation.