ref. 1507
Important centre table
France
Circa 1880
Height : 82 cm (32,3 in.) ; Width : 186 cm (73,2 in.) ; Depth : 83 cm (32,7 in.)
A large Regence style centre table in richly carved walnut, adorned with shells and foliate patterns. The four jambs are enriched with female heads and rely on height feet connected by a richly carved stretcher.
Related work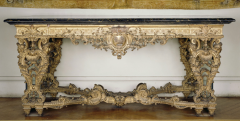 The model of this table – or console – is well-known, because coming from the Château de Bercy, near Paris, and preserved at the Musée du Louvre. This console was bought in 1860 by the Garde-Meuble when the estate and château de Bercy were dismantled. The whole decoration and furniture had been commissioned by Charles-Henri II de Malon de Bercy, under supervision of the architect Jacques de la Guêpière between 1712 and 1714. All carved wood furniture was created under direction of the famous Sculpteurs des Bâtiments du Roi: Jules Degoullons, André and Matthieu Legoupil, Marin Bellan, and Pierre Taupin. The cartouche adorning the console evocates the compositions of the designer Pierre Le Pautre in his Livre de Tables, tables that was used in the galleries to exhibit precious vases, bronzes or minerals.
This console entered the collection of the Garde-Meuble in 1860 and was then exhibited in the Musée du Garde-Meuble (1879-1900) before being preserved in the Musée du Louvre since 1901. During this time, Parisian craftspeople were allowed to copy it : that is the history of our table. 
Tobogan Newsletter
If you want to be up-to-date with our new acquirings you can sign up to our newsletter.