ref. 1735/1
H. Vian
Bronze-caster
(1860-1905)
(attributed to)
Beautiful musician children chandelier
France
Circa 1880
Height : 118 cm (46,5 in.) ; Diam. : 75 cm (29,5 in.)
Elegant Louis XVI style chandelier called "Arabesque à Enfants Musiciens", in finely chiseled and gilded bronze. It is composed of a fluted barrel surmounted by a flaming torch circled by three musician children ending in acanthus and playing the pipe. It has six light-arms, elegantly decorated with acanthus and large leafy scrolls. The base is adorned with a seed with foliage. The whole is suspended by three « antique » link chains.
This superb chandelier, for its decorative repertoire typical of the Louis XVI style and for the attention  to the detail in the carving, illustrates the quality and refinement of the person for whom the original model, created by Pierre Gouthière, one of the most importante bronze-maker in France, was intended : Marie-Antoinette.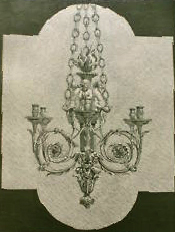 Model by P. Gouthière (1732-1813)
Made around 1780 for the "Cabinet intérieur de la Reine", also named "Cabinet doré" of Queen Marie-Antoinette at Versailles Palace (preserved in situ).
(Commented and reproduced in H. Ottomeyer, Vergoldete Bronzen, T. I, Klinkhardt & Biermann, Munich, 1986, p° 238 and in P. Verlet, Les bronzes dorés français du XVIIIeme siècle, p.92 and p. 340)
Behind her "Grand Appartement", the queen had small rooms reserved for private use and service of her maids. When she was at Versailles, it was in her inner cabinet – the largest of the private rooms of the queen – Marie-Antoinette withdrew most often to receive her children and her friends, to play music, or to pose for Madame Vigée-Lebrun, her favorite portraitist. This inner cabinet is also called golden cabinet, because of the profusion of gold on paneling made by the Rousseau brothers, bronzes and furniture executed by Riesener and Jacob.
Biography
Henri Vian, a bronze-caster active in the second half of the 19th Century, made a lot of interior decorations with chimney mantelpieces, ormolu and patinated-mounted vases, chandeliers,… He produced articles of the highest quality. The signature can be either in script, usually with a lower case first letter for his Christian name as on these vases, or more commonly with initials h.V. in later pieces. The business, located at 5 rue de Thorigny in Paris (Salé Mansion, now Picasso Museum), was continued by Madame Vian after her husband's death in 1905.

Tobogan Newsletter
If you want to be up-to-date with our new acquirings you can sign up to our newsletter.