Henry Picou
(1824-1895)
Cupid's Judgment
France
Oil on canvas
Signed and dated 1874
Dimensions with frame : Height : 95 cm (37,4 in.) ; Width : 125,5 cm (49,4 in.)
Dimensions without frame : Height : 59 cm (23,2 in.) ; Width : 90,5 cm (35,6 in.)
Beautiful composition representing Cupid prisoner, surrounded by women dressed in antique outfits preparing to punish him.
The allegorical painting is a genre in which Pierre Henry Picou has distinguished himself throughout his career, favouring happy and lively scenes.
Although this is a moral scene, the paintor, by his light, delicate touch and his bright colors manages to bring clemency to the subject.
Related works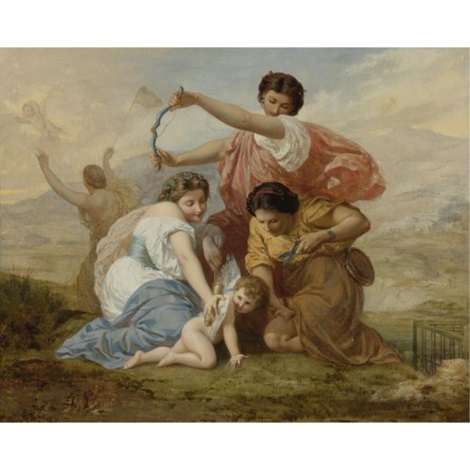 Variant by Henry
Pierre Picou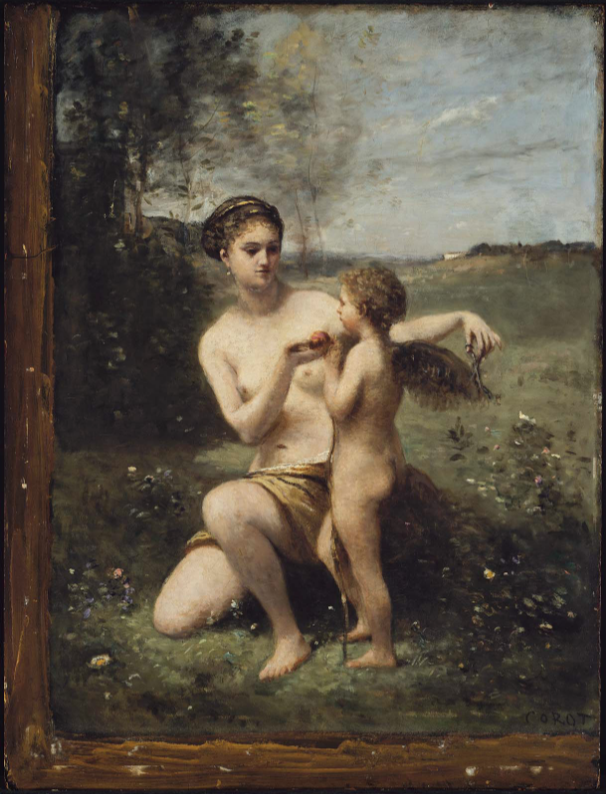 Venus clipping Cupid's wings
Jean-Baptiste-Camille Corot
(1870-1873, Museum of Fine Arts, Boston, n° 1987.745)
Biography
Born on July 27th, 1824 in Nantes and died on July 17th, 1895 in Paris, Henry-Pierre Picou is an history, portrait and genre scenes painter, who has distinguished himself in the Neo-greek movement. Entering at twelve years old in the workshop of the painter Paul Delaroche, he then follows Charles Gleyre's teaching in the Ecole Royale des Beaux-Arts de Paris.
In Paris, he becomes friend with young painters among which Jean-Léon Gérôme, Gustave Boulanger and Jean-Louis Hamon. This group, who is passionate about recent discoveries about Roman and Greek antiquity, starts exposing in the Salon in 1847, and Jean-Léon Gérôme's painting, le Combat de coqs, awarded with a gold medal, allows them to be noticed and devotes Gérôme as the leader of this new Neo-greek movement. This artistic movement quickly becomes fashionable, also influencing the decorative arts and the architecture.
Henry Picou wins the second prize of Rome in 1853 for his painting Jésus chassant les marchands du Temple, preserved today in the Ecole nationale supérieure des Beaux-Arts in Paris.
When Neo-greek artists are not so popular anymore, Henry Picou devotes himself to a career as a portraitist and genre scene painter, and exposes to the Salon paintings inspired by the lifestyle during the Second Empire or by historical themes. With a humanist sensibility and culture and considering the « Genius » as a goal to achieve, he doesn't give up on working on representations of the Antiquity until the end of his life.
Museology
Dahesh Museum of Art in New-York
Musée des Beaux-arts de Nantes
Ecole nationale supérieure des Beaux-Arts de Paris
Musée d'Orsay
Bibliography
E. Bénézit, Dictionnaire des peintres, sculpteurs, dessinateurs et graveurs, Gründ, 1999, t. 10, p. 893.
G. Schurr, 1820-1920 Les petits maîtres de la peinture, Les éditions de l'amateur, 1976, t.III, p.15.