H. Dasson
Bronze-caster and Cabinet-maker
(1825-1896)
attributed to
Important pair of "Lyre" wall-lights
France
Circa 1880
Height : 115 cm (45 1/4 in.); Width : 31 cm (12 1/4 in.) ; Depth : 17 cm (6 2/3 in.)
Pair of four light arms Louis XVI style wall sconces. Chiseled and gilded bronze, shaped as a lyre surmounted by a female mask, issuing flowers and two branches each terminated in two light arms. A long tied ribbon supports the lyre.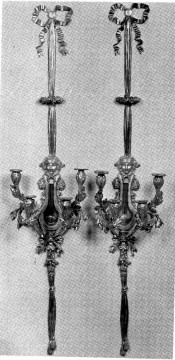 Made after a model by Pierre Gouthière (1732-1813) delivered in 1781 for the Duchess Mazarin.
(Commented and reproduced in H. Ottomeyer, and alii, Vergoldete Bronzen, T. I, Klinkhardt & Biermann, Munich, 1986, p° 425)
Biography
Henry Dasson executed in his Paris workshop sumptuous copies of royal XVIIIth century models and some pieces of his own modified XVIIIth century design. For his pieces of furniture, he used the very finest ormolu mounts with high quality mercurial gilding. He mainly produced in the Louis XV and Louis XVI style. His participation at the Paris 1878 Universal Exhibition was highly remarked with a Louis XVI style table, all made of bronze and considered as a «chasing masterpiece», and a copy of the famous King Louis XV desk (original piece exhibited at Versailles), which was also admired by critics. At the 1889 Universal Exhibition, he won a «grand Prix» for his outstanding furniture. Dasson closed down his business in 1894.
Pierre Philippe Gouthière (1732-Paris, 1813), is one of the masters of bronze crafting under the reign of Louis XVI. He was the master of Pierre Philippe Thomire.