H. Cahieux
Designer
(1825-1854)
F. Barbedienne
Bronze-caster
(1810-1892)
(attributed to)
'Bamboo' stand
Patinated bronze, red Griotte marble
France
Circa 1855
Height : 197 cm (77,6 in.) ; Base : 42 x 46 cm (16,5 x 18,1 in.)
Diameter of the tray : 24 cm (9,4 in.)
Important bronze stand with a bamboo shaped shaft topped with three buds supporting a circular top and ending with three claw feet adorned with lion heads and separated with palms. It rests on a moulded triangular-shaped base with cut sides in red Griotte marble.
related work
The design of these stands, inspired from Ancient tripods, is a well-known model in Ferdinand Barbedienne's production as it was reused many times by the bronze-caster. Designed by the head-decorator Henri Cahieux, this model was edited by the Barbedienne Company as soon as 1855, named Ancient candelabra lamp-holder h. 1m35 and was sold 440 francs. From 1875, these stands were commercialised under the name Bamboo candelabra, tripod, lamp-holder and were offered in three heights : 1m90, 1m70 and 1m35. This model of stand could then be found in all catalogues of the Barbedienne Company.
A model similar to ours was presented by the Barbedienne Company at the 1855 Universal Exhibition. For this occasion, the Empress Eugénie bought it for her toilet at Saint-Cloud Castle. A watercolour by Fortuné de Fournier made in 1860 shows them, set on both sides of a cheval mirror made by the Fourdinois Company.
This model pleased the Empress so much that she ordered two other pairs in 1858 for her boudoirs at Compiègne and Fontainebleau Palaces.

Candelabra, Universal Exhibition of 1855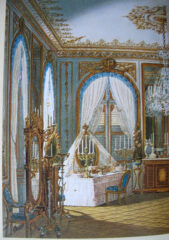 Watercolour showing the Empress' toilet at Saint-Cloud Castle, Compiegne Palace
Otherwise similar stands took place in the Pompeiian house built in 1856 by the architect Alfred Normand (1822-1909) for Prince Napoléon. Several pictures and engravings of this house show us these candelabras used as lamp-holders. If the Ancient style furniture was designed by Charles Rossigneux (1818-1908), the presence of these stands illustrates that the Barbedienne Company took also part to this work particularly with this model which was successful among the imperial family.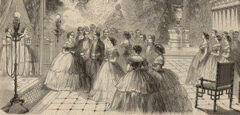 Engraving showing the party given by Prince Napoléon for the inauguration of his Pompeiian house, 14th February 1860, Bibliothèque Nationale de France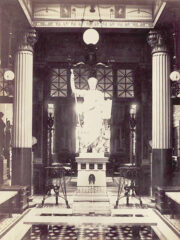 View of the atrium of the Pompeiian house about 1860, Bibliothèque Nationale de France
Biographies
Henri Cahieux (1825-1854) : head decorator for the artistic bronze-caster Ferdinand Barbedienne, he was destined for a brilliant career, as testified the works of art he sent to the Salons of 1850 and 1853. Most of these pieces were made in the Greek style, which was very fashionable at the time. Victor Champier's article "Industrial Artists", which appeared in the Decorative Arts Review (December 1888) echoed the genius of the artist : "Barbedienne had just lost (in 1854), taken by cholera in the prime of life, this young man with such a promising future, whose works, infused with graceful taste, showed him to be a master". At the 1855 Universal Exhibition in Paris, his lamps which figured as the last testimony of Henri Cahieux, won a medal of honour for Barbedienne's stand. His succession in the firm was assured by Louis-Constant Sevin (1821-1888) with great success.
Ferdinand Barbedienne (1810-1892) : he created and headed at n°30 boulevard Poissonnière in Paris one of the most famous 19th century artistic bronze casting companies. He owed his reputation to his bronze casting of Ancient and modern sculptures, which subjects came from the greatest European museums, but also to his original bronze works designed in his workshop and reserved for furniture and decoration. In addition to his own production, Barbedienne worked for renowned sculptors such as Barrias, Bosio, Clésinger or Carrier-Belleuse. Awarded with two Council Medals at the 1851 London Universal Exhibition, the Barbedienne Company won at the 1855 Paris Universal Exhibition a medal of honour and eleven cooperator's medals for the work of his co-workers, designers and chasers. The success of the Barbedienne Company at the diverse international exhibitions earned it several official commissions, as providing ornamental bronze for the Pompeiian house of Prince Napoleon, about 1860, avenue Montaigne in Paris. At the 1867 Universal Exhibition in his capacity as member of and speaker for the Jury, he was non-contestant, but exhibited nevertheless with great success cloisonné and champlevé enamelled pieces. Barbedienne was made an Officer of the Légion d'Honneur in 1867 and Commander in 1878 when he was compared with "a prince of industry and the king of bronze casting". His glory did not decline with the passage of the time for at the Universal Exhibition of 1889 the critics thanked Barbedienne for the example he set for other bronze-casters by the perfection of his bronzes.
Tobogan Newsletter
If you want to be up-to-date with our new acquirings you can sign up to our newsletter.