Ref. 1224/48
Gilded bronze Chandelier
France
Circa 1880
Gilded bronze
Height : 82 cm (32,3 in.) ; Diameter : 70 cm (27,6 in.)
Elegant Louis XV style chiseled and gilded bronze chandelier with nine lights. The barrel is formed of a flowered vase surmounted by three leafy uprights, and ends with a seed. The chandelier is lit by nine light-arms of sinuous shape adorned with scrolls.
related work
This chandelier is inspired by the models created by the bronze-caster Caffieri during the 18th Century, especially the ones attributed to Caffieri, circa 1750, for the Marquise de Pompadour, moved to the Mazarine library in Paris after the Revolution. (cf. Pierre Verlet, Les bronzes dorés français du XVIIIe siècle, Picard, 1987, p.288).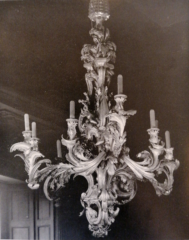 Tobogan Newsletter
If you want to be up-to-date with our new acquirings you can sign up to our newsletter.