G. Van der Straeten
Sculptor
(1856-1928)
Girl with cherries
Signed Van der Straeten and Société des bronzes de Paris
French School
Circa 1890
Height : 66 cm (26 in.) ; Largeur : 36 cm (14 in.) x 30 cm (12 in.)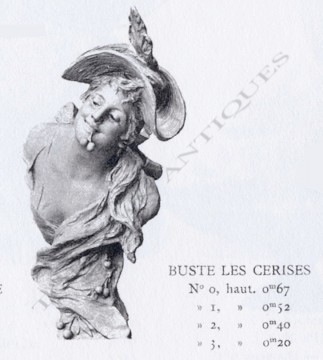 Bust listed in the catalogue of the "Société des Bronzes de Paris".
Bronze bust with a brown patina, the bronze base draped with the girl's clothes and ornamented with cherries, with their original polychrome patina.
Biography
Georges Van der Straeten, born in Ghent (Belgium) in 1856, dead 1928 in Paris, began his career in 1882, after having trained as a lawyer. He studied sculpture in Belgium under G. Kasteleyn and Jef Lambeaux, and left then Ghent for Paris, where he lived from 1883 until 1928. He met there a group of Belgian artists and was in particular very close to the painters Jan Van Beers and Rik Wouters. Straeten exhibited regularly his works at the Salon. He took inspiration from Antoine Watteau's paintings to realize his numerous busts, made with elegant gestures and full of lively charm.
Bibliography
Bénézit, Gründ, 1999, t. XIII, p° 292.
The Dictionary of Western Sculptors in Bronze, James Mackay, Antique collector's club, 1977, p° 361.