G. Servant
Bronze-caster
(1828-c.1890)
"Vase of Bacchus"
France
Height : 45 cm (17 3/4 in.) ; Width : 41 cm (16 in.) x 29 cm (11 1/2 in.)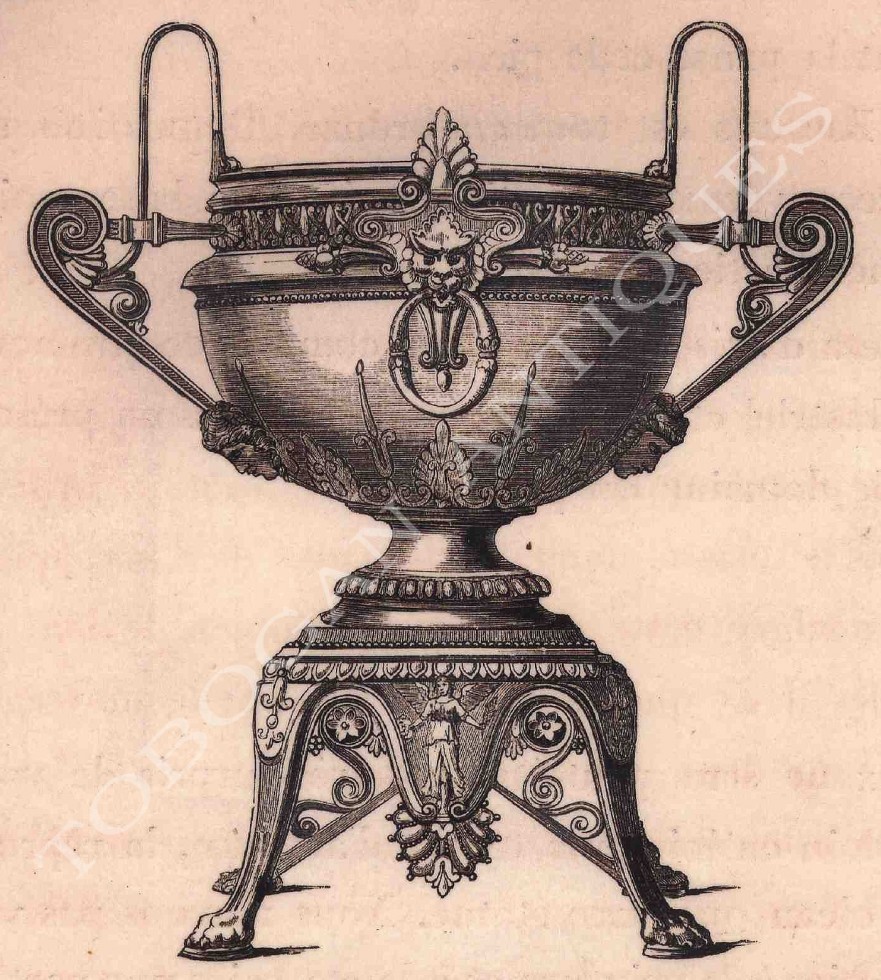 Model presented at the 1867 Paris Universal Exhibition.
(Reproduced and commented in "Merveilles de l'Exposition Universelle de 1867", Jules Mesnard, p° 167 & 168)
A Neo-Grec ormolu and patinated bronze urn. The vase shaped body flanked to the sides by a scrolling handle with mask terminal, centred to the front and back by a beast mask suspending a ring, on a waisted foot above a quadripartite pierced base decorated to the front and back with figures of Victory cast in low relief, the sides with stylized lotus, on splayed paw feet.
Biography
Georges Emile Henri Servant (1828-c.1890), who took over his father in 1855 at their foundry, rue Vieille-du-Temple, in Paris, specialized in the production of neo-Egyptian style clocks, very popular in France since 1860's, and also the making of Greek style decorative objects. He drew considerable attention to the high quality of his bronzes at the 1855 Paris Universal Exhibition and then at the 1862 London Exhibition. At this time Servant exported up to 40% of his production, principally to the United States. But his success came really at the 1867 Paris Universal Exhibition, where he was awarded a gold medal for his neo-Greek works, among which was exposed this « vase of Bacchus ». Jules Mensard explains in his report of the exhibition (Les Merveilles de l'Exposition Universelle de 1867, t. II, p° 165 & 167) : « The general shape and the details (of the piece) reach perfection in character and taste, and bear the same stamp as the best works left to us by antiquity, notably those from Pompeii, which was Roman, although many of the vases found there were of pure Greek style… This vase of Bacchus is made entirely of bronze ». Servant was even awarded in 1874 the « Ordre national de la Légion d'Honneur », France's highest official mark of recognition. Servant participated once again successfully at the 1878 Paris Universal Exhibition, where he not only exhibited vases and small bronze pieces of furniture, but was also a member of the jury for the class of bronze pieces of art. He finally retired shortly before the 1889 Paris Universal Exhibition.
Works in connection
A neo-Egyptian garniture made by Georges Servant in collaboration with Emile Hébert, Universal Exhibition of Paris in 1867.
Bibliography
Les Merveilles de l'Exposition Universelle de 1867, t. II, p° 165 & 167.
The Art Journal Catalogue of the Paris Universelle Exposition of 1867, London, 1867, p° 20.
Exposition Universelle de 1878, Rapport sur les bronzes d'art, Groupe III, Classe 25, p° 26.
"La petite sculpture au XIXe s. Les éditeurs", Bernard Metman, Archives de l'Art français, 1989, t. XXX, p° 210.