G. Servant
Bronze-caster
(1828-c.1890)
attributed to
Pair of neo-Greek stands
France
Circa 1870
Height : 88 cm (34 2/3 in.) ; Diam. : 50 cm (19 2/3 in.)
Pair of patinated and gilded bronze tall gueridons with for each of them, three paw feet, headed by stylized lion muzzles, ornamented with beaded chains and joined by a fine foliate stretcher. Surmounted with a circular bronze top.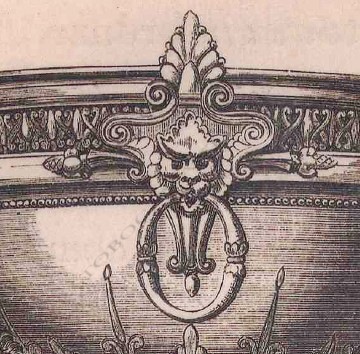 The similar lion head is to be seen, applied on the bronze « Bacchus Vase », presented by G. Servant at the Paris Universal Exhibition of 1867.
(Reproduced in « Merveilles de l'Exposition Universelle de 1867 », Jules Mesnard, p°167)
Biography
Georges Emile Henri Servant (1828-c.1890), who took over his father in 1855 at their foundry, rue Vieille-du-Temple, in Paris, specialized in the production of neo-Egyptian style clocks, very popular in France since 1860's, and also the making of Greek style decorative objects. He drew considerable attention to the high quality of his bronzes at the 1855 Paris Universal Exhibition and then at the 1862 London Exhibition. At this time Servant exported up to 40% of his production, principally to the United States, where for instance, his clocks were sold with great success by Louis Tiffany Inc. or Hamann & Roche of New York. But his success came really at the 1867 Paris Universal Exhibition, where he was awarded a gold medal for his neo-Greek and Egyptian works (Les Merveilles de l'Exposition Universelle de 1867, t. II, p° 165 & 167). He was even awarded in 1874 the « Ordre national de la Légion d'Honneur », France's hightest official mark of recognition. Servant participated once again successfully at the 1878 Paris Universal Exhibition, where he not only exhibited vases and small bronze pieces of furniture, but was also a member of the jury for the class of bronze pieces of art. He finally retired shortly before the 1889 Paris Universal Exhibition.