Ref. 1756/2
G. Durand
Cabinet-maker
(1839-1920)
Charming oval table
Stamped Durand
France
Circa 1880
Height : 75 cm (29,5 in.) ; Width : 50 cm (19,7 in.) ; Depth : 37 cm (14,6 in.)
Charming Louis XV inspired oval table in green stained wood veneer on a satinwood background, highlighted with ebony threads and cabochons, and opening to a drawer on the belt. The oval top, surrounded by an openwork gallery in gilded bronze, is decorated with a beautiful marquetry of blueberries on a squared background, also found on the belt and the tablet. It rests on four cabriole legs adorned with antique chutes on the angles and ending with leafy gilded bronze hooves, united by a stretcher with an openwork gallery.
related work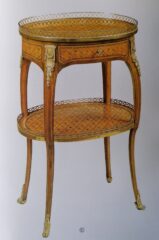 Louis XV period table, stamped R.V.L.C., 18th century, reproduced in P. Kjellberg, Le Mobilier Français du XVIIIe siècle, Dictionnaire des Ebénistes et des Menuisiers, Editions de l'amateur, Paris, 1989, pp. 753.
Biography
Gervais Durand participated in the 1889 Universal Exhibition where he was awarded a silver medal. A. Picard's exhibition report stated that, « Mr Durand, cabinet-maker, as skilful as modest, displays for the first time very fine furniture, which has been designed and made by him. He is walking in the footsteps of giants such as Beurdeley and Dasson ». Durand made almost exclusively reproductions of 18th Century masterpieces, among which, those made by the most famous Parisian cabinet-maker, supplier of the Royal family : B.V.R.B. His works reveal in all points the great harmony between the forms, marquetry decoration and bronzes.
Of Flemish origin, cabinet-maker Roger Lacroix (1728-1799), also known as Roger Vandercruse bound with the cabinet-makers Jean-François Oeben and Jean-Henri Riesener, successively husband of his older sister. Maitre in 1755, he took over his father's factory in rue du Faubourg Saint-Antoine and very quickly acquired great renown. From 1769, he was in charge of all court orders, and thus supplied the Countess of Provence and Madame Victoire. Lacroix is distinguished by very homogeneous Louis XV furniture, of high quality and a great talent for marquetry. His first production, during the Louis XV period, evolved with the attributes of the Transition period. At the end of Louis XV's reign, he was one of the first to make furniture in satinwood inlaid with ebony. He then made Louis XVI models with great precision marked by the arrival of a characteristic motif, the helical rosette. Lacroix specialized in bonheurs-du-jour that he liked to decorate in Chinese style. The cabinetmaker also made many small tables for which he used repeated patterns of interlocking circles or diamonds, grids with fleurons or even vertical yellow and green stripes that imitate the marqueterie de paille. Lacroix put an end to his activity under the Revolution, without a son or wife to take over. His factory is sold after his death.
Tobogan Newsletter
If you want to be up-to-date with our new acquirings you can sign up to our newsletter.