Ref. 1276/3
F. Levillain
Sculptor
(1837-1905)
F. Barbedienne
Bronze-caster
(1810-1892)
Large Neo-Greek Vase
Signed F. Levillain
Height : 117,5 cm (46,2 in.) ; Diameter : 38 cm (14,9 in.)
Model presented at the Universal Exposition in Paris in 1878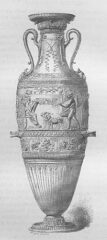 (Reproduced in Les Beaux-Arts et les Arts Décoratifs, Louis Gonse, 1879, Tome 1, p.369)
Important neo-Greek vase in the shape of an Amphora, made in two patina bronze. The body is decorated with a rich continuous frieze in bas-relief presenting a procession of characters carrying their offerings to the temple, underlined by a decoration of theatrical masks among olive trees. The 's'-scroll handles decorated with grape vines, resting only on the shoulder of the vase, are supported by a ram's head. Numerous palmettes and friezes adorn the whole. Resting on a molded marble circular base.
Biography
Ferdinand Levillain (Paris, 1837-1905) studied under the sculptor Jouffroy (1806-1882), before making his debut in 1861 at the French Artists Salon where he continued to exhibit until 1903. At the 1867 Universal Exhibition in Paris, he was praised for a Neo-Greek style bronze cup he made for the firm Blot and Drouard. He was not to become really famous, however, until 1871 thanks to his association with the great bronze founder Ferdinand Barbedienne, who began to exhibit Neo-Greek style lamps, cups, vases and candelabras on his stands. Levillain was overwhelmingly triumphant at the 1878 Universal Exhibition in Paris, where he was unanimously awarded the gold medal for his creations in the Classical style. The famous bronze caster Servant (1828-c.1890) declared in the report of the jury for Artistic Bronzes that the work of Levillain « chased like the finest jewels » and « so diverse and pure of form (…) are of the highest degree of perfection ». After receiving a first class medal at the 1884 Salon for a cup entitled « The Elements, the Months and the Seasons », he went on to win a silver medal at the 1889 Universal Exhibition in Paris.
Born in 1810, Ferdinand Barbedienne started one of the most famous 19th century artistic bronze casting companies. He died in 1892. In addition to his personal production, he worked for famous artists such as Clésinger, Carrière-Belleuse and Guillemin. Barbedienne's production was always highly esteemed and he was, himself admired by contemporary art critics who compared him during the 1878 Universal Exhibition to a « prince of industry and the king of bronze-casting ». In the catalogue of the Exhibition, Barbedienne was considered as the leader among 19th century bronze casters, because of the exquisit quality of his bronzes.
Tobogan Newsletter
If you want to be up-to-date with our new acquirings you can sign up to our newsletter.