F. Barbedienne
Bronze-caster
(1810-1892)
"Shepherd playing his flute"
Signed F. Barbedienne Fondeur and stamped Achille Collas
France
Circa 1880
Height : 60 cm (23 2/3 in.) ; Diameter : 26 cm (10 1/4 in.)
A patinated bronze figural group representing a shepherd playing his flute with a young centaur imposing silence at his sides. The group stands on a Louis XIV style gilded bronze base.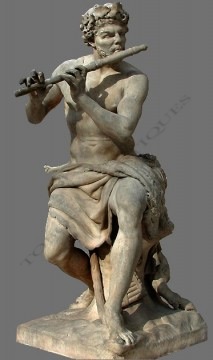 Bronze cast after the marble model sculpted by Antoine Coyzevox in 1710, placed near the river in the Marly Park, then moved in 1716 to the Tuileries Gardens (now exhibited in the Louvre Museum – Inv. M.R.1820).
Biography
Ferdinand Barbedienne (1810-1892), the most important caster of bronze pieces of art during the second half of the 19th Century, created and directed one of the principle artistic founderies of his day. Their illustrated catalogues included many diverse objects such as busts, ornemental sculpture (clocks, candelabras, chandeliers) sometimes even life-sized and also bronzes for furniture. Apart from his own production, Barbedienne worked for the most renowned sculptors such as Barrias, Bosio, Clésinger and Carrier-Belleuse. Participating in all Universal Exhibitions, winning many awards, Barbedienne was made an officer of the Légion d'Honneur in 1867 and Commander in 1878 when he was compared with « a prince of industry and the king of bronze casting ». His glory did not decline with the passage of the time for at the Universal Exhibition of 1889 the critics thanked Barbedienne for the example he set for other bronze-casters by the perfection of his bronzes.
The "mechanical reduction" stamp of A. Collas to be seen on this bronze reminds us of the association between Collas and Barbedienne. In fact, beginning in 1839, Barbedienne went into partnership with Achille Collas (1795-1859), the inventor of the process of mechanical reduction, allowing Barbedienne not only to produce bronze pieces of different sizes, but more especially to take pride of place in the artistic bronze industry.