Ref. 1801
Perfume Burner
France
Circa 1880
Porcelain, Gilded bronze
Height : 33 cm (12,9 in.) ; Length : 36 cm (14,1 in.) ; Width : 23 cm (9 in.)
Large enameled porcelain perfume burner decorated with vines on a background of rose petals. The set is embellished with an elegant mount in chiseled and gilded bronze formed by an openwork gallery on the collar, windings and foliage forming the handles and the base, all surmounted by a shell-shaped grip.
Related work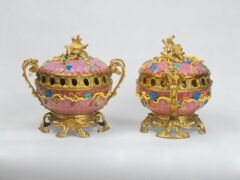 This perfume burner is inspired by a pair of similar perfume burner, in Chinese porcelain and French mounts circa 1745, exhibited at the Wallace Collection in London (inv. F115 et F116).
Tobogan Newsletter
If you want to be up-to-date with our new acquirings you can sign up to our newsletter.