BACCARAT
Crystal Manufacture
(Attributed to)
AN EXCEPTIONAL CRYSTAL CHANDELIER
France
Circa 1890
Height : 150 cm (59 in.) ; Diameter : 105 cm (41 1/3 in.)
A very important Louis-Philippe style thirthy-five lights chandelier. The centered stem is made up of baluster-and-bowl-shaped cut-crystal pieces, all of very high-standard quality. With beautiful gilded bronze mounts, such the issuing light-arms decorated with branches and entwined ivy, typical of the 1840's Romantic artistic movement. Thirthy-eight bevelled crystal blades form a star underneath. Hung overall with fine faceted Baccarat crystal drops, prisms, hob-nails, diamonds and small bells.
Biography
Under the reign of King Louis-Philippe (1830-1848) furniture and decorative arts produced by the emerging industrial techniques, were revealed successfully during the Paris « Exposition des Produits de l'Industrie », precursory to the famous Universal Exhibitions.
The crystal manufacture of Baccarat, that dates back to the 18th century, was awarded its first medal at the 1823 « Exposition des Produits de l'Industrie » for the « brilliance and the sharpness of its crystal » and became then the most renowned French « cristallerie ». Baccarat was undoubtedly the only French manufacture, that exhibited steadily and magnificently its products at the various Universal Exhibitions. In all reports one can read about the « perfection of the material and of its cut ».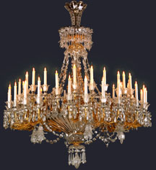 This remarkable crystal chandelier is to be linked to another masterpiece executed by the Baccarat manufacture (Private collection).