H. Cahieux
Sculptor-ornemanist
(1825-1854)
F. Barbedienne
Bronze-caster
(1810-1892)
attributed to
Pair of "Temperantia" gueridons
France
Circa 1855
Height : 82 cm (32 1/4 in.) ; Diameter : 45 cm (17 3/4 in.)
Rare pair of gilt and patinated metal gueridons, each consisting of a electrotype circular charger dish raised on tripod supports ending in sandaled feet joined by a stretcher centered by a flowerhead.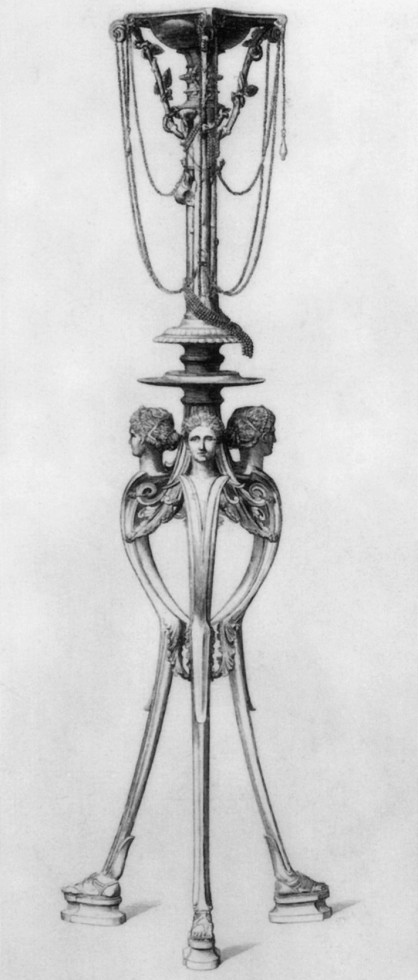 This stand with sandaled feet is based on the model of a lamp-holder designed by Henry Cahieux (1825-1854) for Ferdinand Barbedienne (1810-1892), exhibited at the 1855 Paris Universal Exhibition, which a copy was purchased by the Victoria and Albert Museum of London, known then as the South Kensington Museum.
The Renaissance style dish shaped top richly ornemented in relief with a female figure holding a cup and a pitcher centering a medallion inscribed Temperantia. The charger is ornated with four panels of allegorical figures of the Elements named Aqua, Terra, Ignis et Aer (Water, Earth, Fire and Air) adorned with foliate and masks. Revolving around them, the banded decoration within borders of strapwork, birds, masks and fruits, depicts allegorical cartouches of the seven Liberal Arts named Grammatica, Dialectica, Rhetorica, Arithmetiqua, Geometria, Astrologia, Musica, complemented by Minerva, goddess of Wisdom.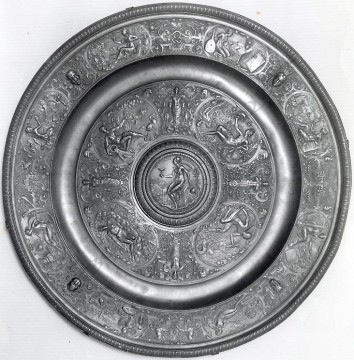 The 'Temperantia' Salver was electroptyped made after the original 16th century French salver cast by Francois Briot (1550-1616), exhibited at the Victoria & Albert Museum in London.
Biography
Henry Cahieux (1825-1854), head decorator for the artistic bronze founder Ferdinand Barbedienne, was destined for a brilliant career, as testified by the works of art he sent to the Salons of 1850 and 1853. Most of these pieces were in the Grecian style, which was very fashionable at the time. Victor Champier's article « Industrial Artists » , which appeared in the Decorative Arts Review (December 1888) echoed the genius of the artist : « Barbedienne had just lost (in 1854), taken by cholera in the prime of life, this young man with such a promising future, whose works, infused with graceful taste, showed him to be a master ». At the 1855 Universal Exhibition in Paris, these stands also named Tripod of Greek style figured as the last testimony of Henry Cahieux and won a medal of honour for Barbedienne's stand. His succession in the firm was assured by Louis-Constant Sevin (1821-1888) with great success.
Born in 1810, Ferdinand Barbedienne started one of the most famous 19th century artistic bronze casting companies. He died in 1892. In addition to his personal production, he worked for famous artists such as Auguste Clésinger (1814-1883), Albert-Ernest Carrier-Belleuse (1824-1887) and Louis Barrias (1841-1905). These artists production – as shown in their illustrated catalogue – varied from busts and decorations for furniture, to ornamental sculptures such as clocks, candlesticks, sconces and life-size pieces of art. Barbedienne's production was always highly esteemed and he was, himself admired by contemporary art critics who compared him during the 1878 Universal Exhibition to a « prince of industry and the king of bronze-casting ».
Bibliography
Les artistes de l'Industrie, Victor Champier, Revue des arts décoratifs, déc. 1888, p°172.
Exposition Universelle de 1878, Rapport sur les bronzes d'art, Groupe III, Classe 25, p°26.
Catalogue de l'Exposition Universelle, les Beaux-Arts et les Arts décoratifs, t. I : l'Art moderne, Paris, 1878.
1851-1900 – Le Arti decorative alle grandi Esposizioni Universali, D. Alcouffe, Idea Libri, 1988, p°79, n°112.