H. Cahieux
Sculptor-ornemanist
(1825-1854)
F. Barbedienne
Bronze-caster
(1810-1892)
Pair of neo-Pompeian Lamps
Signed F. Barbedienne
France
Circa 1855
Height : 202 cm (79 1/2 in.) ; Base diameter : 35 cm (13 3/4 in.)
A pair of lamps of Pompeian style made in two patina bronze. Each lamp is composed of an amphora-shaped vase, ornated with a banded decor presenting between two laurel garlands a procession of antique dressed characters. The curved handles are decorated with antique theater masks. Topped with an engraved glass globe.
Reposing on two patina bronze stands, which model was edited by Ferdinand Barbedienne in 1855 under the name Candélabres antiques porte-lampes ("Antique lamp holder candelabra"), made up of a small circular top above a stem imitating bamboo ornamented with hooks terminated with flower buds, each holding a small chain. Resting on a tripod base, ornamented with large palmets and paw feet.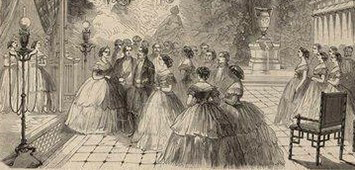 Engraving published in L'Illustration, shows the party given for the inauguration of the Pompeian House by Prince Napoleon-Joseph (1822-1891), to his cousin, Emperor Napoleon III and Empress Eugenie, February 14, 1860. Lamps of a similar model to ours used to adorn the atrium of the Pompeian House built by architect Alfred Normand in 1856 for Prince Napoleon. Regarding the bronze stands, Empress Eugenie had bought a pair from Ferdinand Barbedienne at the Paris Universal Exhibition of 1855, for her dressing room at the castle of Saint-Cloud. These Greek style tripod candelabra pleased so much the Empress that she ordered two further pairs in 1858 for her boudoirs at the Compiègne and Fontainebleau palaces (now preserved in the National Museum of the Château de Compiègne).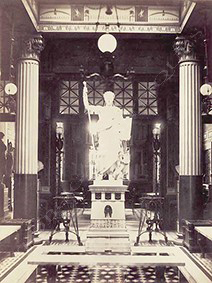 Pierre-Ambroise Richebourg (1810-1875), View of the atrium of the Pompeian House, around 1860, 11 albumen paper prints made from collodion glass plates, (France National Library, Prints and Photographies Dept., Eo 28 folio tome II).
Biography
Henry Cahieux (1825-1854), head decorator for the artistic bronze founder Ferdinand Barbedienne, was destined for a brilliant career, as testified by the works of art he sent to the Salons of 1850 and 1853. Most of these pieces were in the Grecian style, which was very fashionable at the time. Victor Champier's article "Industrial Artists", which appeared in the Decorative Arts Review (December 1888) echoed the genius of the artist : « Barbedienne had just lost (in 1854), taken by cholera in the prime of life, this young man with such a promising future, whose works, infused with graceful taste, showed him to be a master ». At the 1855 Universal Exhibition in Paris, his lamps which figured as the last testimony of Henry Cahieux, won a medal of honour for Barbedienne's stand. His succession in the firm was assured by Louis-Constant Sevin (1821-1888) with great success.
Ferdinand Barbedienne (1810-1892), the most important caster of bronze pieces of art during the second half of the 19th Century, created and directed one of the principle artistic founderies of his day. Their illustrated catalogues included many diverse objects such as busts, ornemental sculpture (clocks, candelabras, chandeliers) sometimes even life-sized and also bronzes for furniture. Apart from his own production, Barbedienne worked for the most renowned sculptors such as Barrias, Bosio, Clésinger and Carrier-Belleuse. At the London exhibition in 1851 Barbedienne's firm won two « Council medals ». At the 1855 Universal Exhibition, he won a medal of honour and eleven cooperator's medals for the work of his co-workers. The success of Barbedienne's firm brought him many official commissions, such in about 1860, as Barbedienne supplied bronzes for furniture for the Pompeian Villa of Prince Napoléon-Joseph, located avenue Montaigne in Paris. At the 1867 Universal Exhibition in his capacity as member of and speaker for the Jury, he was non-contestant, but exhibited nevertheless with great success some of his great pieces. Barbedienne was made an officer of the Légion d'Honneur in 1867 and Commander in 1878 when he was compared with « a prince of industry and the king of bronze casting ». His glory did not decline with the passage of the time for at the Universal Exhibition of 1889 the critics thanked Barbedienne for the example he set for other bronze-casters by the perfection of his bronzes.