C.-G. Winckelsen
Cabinet-maker
(1812-1871)
Secretary with Japanese lacquer panels
Signed Chles Winckelsen, 21 rue Saint-Louis (Au Marais)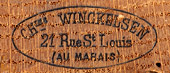 France
Circa 1860
Height : 138 cm (54 1/3 in.) ; Width : 88 cm (34 2/3 in.) ; Depth : 41 cm (16 in.)
Exceptional Louis XVI style upright secretary, veneered with amaranth and thuja burl, ornamented with centering Japanese lacquer panels and beautifully mounted with chiselled and gilded bronzes. The front panel opens onto a six drawers fitted interior made in sycomore with amaranth and ebony fillets. Topped with statuary Carrare marble.
related work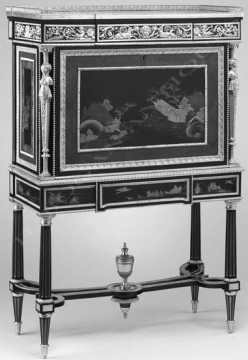 This work was inspired by a model made by Adam Weisweiler around 1790, now exhibited at the New York Metropolitan Museum of Art.
Biography
Born in 1812, Charles-Guillaume Winckelsen is one of the most talented cabinet-makers of the Second Empire period, taking inspiration from 18th Century furniture. He mainly used the Louis XVI style decorative motifs but without reverting to simple pastiche and creating then beautiful furniture. Winckelsen's bronze casting was of the highest quality. He had his workshops in Paris at N°23 Val-Sainte-Catherine in 1854, moved in 1860 to N°21 rue Saint-Louis in the Marais, and in 1867 to N°49 rue de Turenne. His production varied from furniture to decorative works of art, specializing in particular in the Louis XVI style to a very high quality standard. As a very talented cabinet-maker he was often honoured the commands from the aristocrats as well as the Paris wealthy high society. Following Winckelsen's death in 1871, Henry Dasson (1825-1896) purchased on July 27 the workshop and stock from Winckelsen's widow.
Adam Weisweiler (1744-1820) became Master in cabinet-making on March 26th 1778. He settled his workshops in Paris, on Faubourg-Saint-Antoine Street. Weisweiler was one of the great masters of the Louis XVI style. From German origin, he is assumed having received his training in the workshop of Roentgen. He came to France before 1777, year of his wedding in the capital city. He worked primarily for the « marchand-merciers » like Daguerre, whom sold Weisweiler's works to Queen Marie-Antoinette. Very talented in his art, he developed a personal style, combining various materials such pietra-dura, lacquer or Sèvres porcelain plaques. A large part of his production is now displayed in public collections such in the Louvre Museum, the Paris Decorative Arts Museum, the New York Metropolitan Museum of Art.