Baccarat
Crystal Manufacture
Pair of opaline Vases
Bearing the Baccarat label

France
Circa 1870
Height : 50 cm (19,7 in.) ; Diam. : 16 cm (6,2 in.)
Beautiful pair of baluster-shaped white opaline vases with rotating decoration of polychrome flowers on the belly. The whole is enriched by a frieze of Greek patterns and foliage, underlined with a golden net, on a beige background painted on the neck and the foot of the vases.
The technic of opal glass, obtained by addition of tin oxide, was known in Venice as soon as the 16th century. However, it was only in 1810 that this technic was adapted to crystal in France. The first opal crystal pieces were adorned with a cutwork and gilt bronze mounts, but short after the painted and baked decoration then developed adorned opal crystal pieces with polychrome and refined ornaments, creating real paintings on opal crystal.
Biography
The famous crystal manufacture of Baccarat, that dates back to the 18th century, was awarded its first medal in 1823, during the "Exposition des Produits de l'Industrie" for the "brilliance and the sharpness of its crystal" and became then the most renowned French "cristallerie". Baccarat was undoubtedly the only French manufacture, that exhibited steadily and magnificently its products at the various Universal Exhibitions, and especially between 1855 and 1867. In all reports one can read about the "perfection of the material and of its cut". To keep its wealthy clientele, among which the Royal family, Baccarat must discover new styles and decors as well as new material, as shows that beautiful opal glass, which became one of Baccarat's specialties in the 1850's.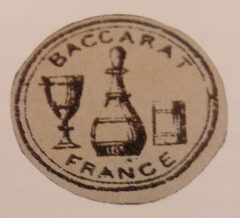 Between 1764 and 1860, with rare exceptions, the Cristallerie de Baccarat never signed his work. The first paper labels appear in 1860 and represent inside a circle a carafe surrounded by a stemmed glass and a goblet above which is marked Baccarat.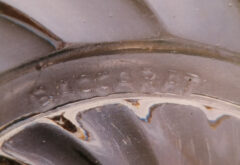 From 1875, the Mark « Baccarat » in stick letters and in relief is present on certain blown models and on the bronze parts of the frames.

It is from 1936 that the carafe surrounded by a stemmed glass and a goblet, with « Baccarat » marked above, systematically appeared on the entire production.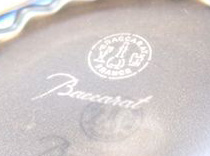 Since 1990, a laser signature complete the engraved mark.
Bibliographie
Dany Sautot, Baccarat, une histoire, éd. Baccarat, 1993.
L'Art en France sous le Second Empire, Exposition Grand-Palais, Paris, 1979, p. 238-239.
Exposition Universelle de 1867, Rapport adressé à la commission d'encouragement, classe 16 et 17, p. 24 -25.
Tobogan Newsletter
If you want to be up-to-date with our new acquirings you can sign up to our newsletter.