BACCARAT
Crystal manufacture
attributed to

A beautiful pair of opal glass vases
France
Circa 1860
Height : 60 cm (23,6 in.) ;  Diam. : 22 cm (8,7 in.)
A pair of white opal glass « trumpet » shaped vases. They are adorned with a sumptuous painted decoration composed of flowers finely painted with a wide range of colours. This decoration is completed with a gold net on the feet and the neck of the vases
The technic of opal glass, obtained by addition of tin oxide, was known in Venice as soon as the 16th century. However it was only in 1810 that this technic was adapted to crystal in France. The first opal crystal pieces were adorned with a cutwork and gilt bronze mounts, but short after the painted and baked decoration then developed adorned opal crystal pieces with polychrome and refined ornaments, creating real paintings on opal crystal.
Museology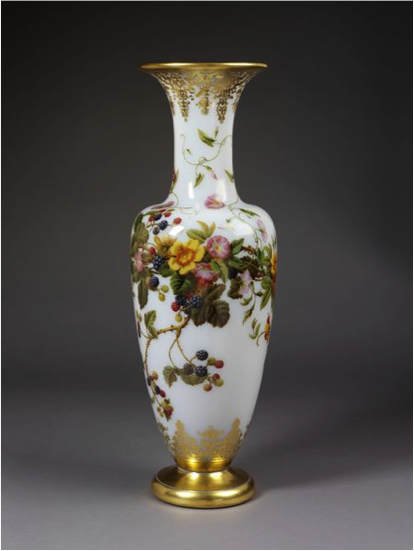 The Victoria and Albert Museum (London) preserves an opal glass vase showing a flower and gold decoration attributed to Jean-François Robert (Inv. 4622-1901).
Commentary
The famous crystal manufacture of Baccarat, that dates back to the XVIIIth century, was awarded its first medal in 1823, during the "Exposition des Produits de l'Industrie" for the "brilliance and the sharpness of its crystal" and became then the most renowned French "cristallerie". Baccarat was undoubtedly the only French manufacture, that exhibited steadily and magnificently its products at the various Universal Exhibitions, and especially between 1855 and 1867. In all reports one can read about the "perfection of the material and of its cut". To keep its wealthy clientele, among which the Royal family, Baccarat must discover new styles and decors as well as new material, as shows that beautiful opal glass, which became one of Baccarat's specialities in the 1850's.
That elegant decoration was probably painted by Jean-François Robert (1778-1870), who was a painter at the Sèvres porcelain Manufacture and who worked for the Baccarat Manufacture between 1845 and 1860. The first painted decorations on opal crystal were baked at low-temperature and were easily damaged. The creation of a painted and vitrified decoration allowed stabilising durably on the opal glass an abundant and vivid decoration often composed of flowers and enhanced with gold.
Bibliography
Dany Sautot, Baccarat, une histoire, éd. Baccarat, 1993
L'Art en France sous le Second Empire, Exposition Grand-Palais, Paris, 1979, p. 238-239
Exposition Universelle de 1867, Rapport adressé à la commission d'encouragement, classes 16-17, p. 24-25