A. Metgé
Cabinet-maker
(1883-1970)
Rare "meuble d'appui"
Signed on the panel Metgé
France
Circa 1910
Height : 102 cm (40 in.) ; Width : 130 cm (51 in.) ; Depth : 50 cm (19 2/3 in.)
A beautiful cabinet made in waxed natural oakwood, whose structure and the door framing are entirely carved with tree and vine branche shaped motifs. The door façades are finely ornated with mild coloured local wood marquetry, presenting a pastoral landscape and a scene with a deer in the woods. Opening with two doors, onto two drawers. Topped with "Escalette" marble.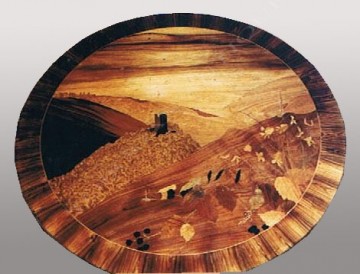 Inlaid top typical of Metgé's production.
(Handwritten and photographic files of the Metgé family)
Biography
Auguste Metgé followed courses at the Ecole des Beaux-Arts in Toulouse from 1899 until 1903, and won a scholarship from the Regional Council in order to continue his art studies in Paris, where he finally exhibited sculptures and paintings at the Salon des French Artists in 1910. He took after the family entreprise, making seats and carved furniture in Sorèze (Southern France), and thanks to his education and talent, he gave a new impetus to the workshop, which quickly specialized in the artistic cabinet-making. Auguste Metgé created furniture and ensure their perfect realization. While performing his own drawings, woodworking and carving, his wife made on her own the inlay work after her husband's compositions. The finely executed subjects took their source in the Sorèze landscape. Marked by the Great War (1914-18), Auguste Metgé withdrew gradually, responding to very few commands. His work include the bas-reliefs of the Memorials in Sorèze and Durfort, and a Christ for the Benedictine Abbey in En Calcat. Metgé was a member of the jury for the « Greatest France Craftsman », and was awarded the "Ordre National de la Légion d'Honneur", France's highest official mark of recognition.
Bibliography
Handwritten and photographic files of the Metgé family.
Revue du Tarn.