Ref. 1224/38
A. Krieger
Cabinet-maker
(attributed to)
Console with chimeras
France
Circa 1860
Height : 107 cm (42 in.) ; Length : 190 cm (74,8 in.) ; Depth : 51 cm (20 in.)
Rare Empire style Side-board console made in mahogany, enriched with superb bronze ornaments kept with their original gilding. Topped with « Cipolin » marble.
related work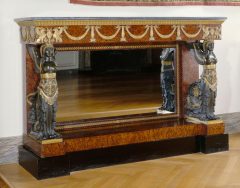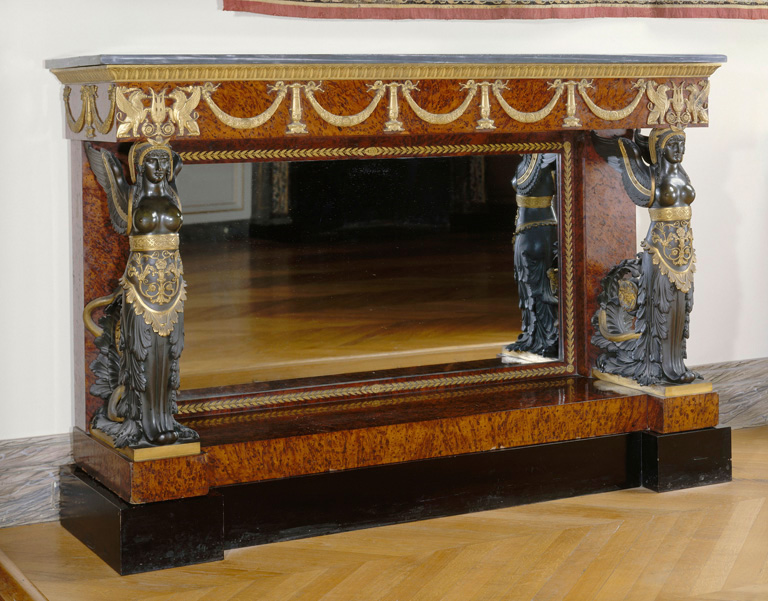 This console is to be linked to the one made by Pierre Thomire around 1805 and now exhibited in the Louvre Museum (Inv. OA 9969).
Biography
The Krieger firm began with Antoine Krieger (1804-1869) the cabinet-making activity in the middle of the 19th century, before setting an important inner decoration department which provided much success and prestige to the company until about 1945. The Krieger firm made all sketches and designs in all kind of styles, ancient or contemporary. About one thousand workers were employed at n°74-76 Faubourg-Saint-Antoine Street in Paris, producing luxurious as well as standard furniture. But the making was always of very high quality with oakwood or selected mahogany cabinets decorated with finely chosen veneers. The Krieger firm won several medals among which a second-class medal at the 1851 Universal Exhibition of London and took part in further international exhibitions, such as the one held in Paris in 1855.
Pierre Thomire (1751-1843) was considered as one of the most talented bronze-chaser under the First Empire. He studied chasing with the renowned Gouthière and founded then, in 1776, his workshop, where all the famous cabinet-makers and the Sèvres Manufacture, as well as for himself, went into to embellish their own production. Thomire was many time commissioned by Napoleon I and Joséphine to ornate with candelabras, clocks and many other decorative objects the different French residences of the Imperial couple, such as the Tuileries Palace, the Saint-Cloud Palace, the Fontainebleau Palace and their private mansion at Malmaison.
Tobogan Newsletter
If you want to be up-to-date with our new acquirings you can sign up to our newsletter.